Reading Time:
17
minutes

How to Write an X Ray Tech Resume
Do you have an updates x ray tech resume ready just in case? As our population ages, the need for diagnostic imaging, otherwise known as medical imaging, increases. The Bureau of Labor Statistics, in fact, predicts a 13% employment growth from 2016 to 2026 for radiologic technologists (Source.) So as an aspiring rad tech, you need an x ray tech resume that will optimally market you for the best jobs.
This guide is meant for the rad tech school graduate seeking their first job out of school. However, it could also be used by rad tech school applicants if the school you are applying to requires a professional resume for admission. Special denotations will be marked for school applicants. It can also be a reference guide for a rad tech already in the field and looking to update their resume to the currently accepted format.
There are many methods for writing an xray tech resume. This reverse chronological method is just one style. If you find it easier to write your resume in a different style, that is fine too. Just make sure that it is clean and uncluttered so that the person reading can easily see what is important. Do not list things that are irrelevant to the position you are applying to. Given the pressure that comes with writing a resume and assuming this is your first resume, I want to help. This article will, in a nutshell, detail what to include in your resume, why, and the current trending format to use. Click here for a sample Cover Letter, if you also need that to go along with your resume.
The resume of an X-ray tech or related imaging profession will include more than the usual basics. It is not enough to only outline personal details, credentials, and references. To stand out from the competition, you'll need a comprehensive x ray tech resume that includes the following attributes.
A Value Proposition for your X Ray Tech Resume
A value proposition is a marketing statement that summarizes why potential employers should hire you. Start by researching what employers look for in radiographers in your department. You can do this by looking for ideal jobs on the web and noting the qualifications required. Highlight your matching credentials and add at least two reasons why you'd be a good fit for the job.
Here's an example illustrating how to go about creating your value proposition for your x ray tech resume:
Job Ad states: Radiologic Technologist, ARRT certified, no experience required.
My qualifications are: ARRT certification, one year experience, hospital experience, BLS certification.
Value proposition statement: ARRT certified radiologic technologist with one year of experience performing X-rays, fluoroscopy, and portable x-rays in a large hospital setting.
The value proposition should be at the top of your resume. Preferably, in the Professional Summary/Objectives section. And the rest of your resume should be able to prove it.
Why should my x ray tech resume include a value proposition?
Simple. It demonstrates your worth to prospective employers. Resume writer and experienced recruiter, Lynda Spiegel, states a value proposition tells employees and recruiters, "this is who I am, and this is what I do and here's how I do it exceptionally well. It's your professional brand. It's your elevator pitch. It's what tells an employer whether or not it's worth taking time to learn more about you." (Spiegel,n.d.)
Clinical Experience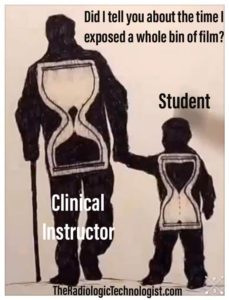 Clinical experience is the experience in a medical field earned through volunteering, shadowing, or employment. It should ideally be in the area that you're pursuing as a career. An aspiring X-ray tech would be wise to shadow a radiographer. You could also volunteer or work in any capacity in the radiology department of a hospital, clinic, nursing home, or research lab. Any such experiences should fall under Work History/Professional Experience/Clinical Experience. This section should be right below the section containing your value proposition.
Note. If you are using this guide to write a resume for acceptance into a rad tech school,  it is advisable to start your clinical volunteer experience before submitting your rad tech school application. If you scheduled a date to volunteer/shadow but haven't completed it yet, at least include the set starting date in your application. Rad Tech schools look very favorably on you if you have clinical experience. It shows that you have done research into the field and have already committed to being a part of it.
Why should my resume include clinical experience?
Clinical experience does not only increase your chances for acceptance in a rad tech school but also your chances of getting a job upon graduating. It proves to potential schools or employers that:
You have an awareness of the realities of medicine, that is both the advantages and disadvantages.
You have prior experience and consequently, employability skills.
You are committed to practicing radiography.
You have a service-minded attitude.
Classroom Experience
Classroom experience refers to the time spent learning the fundamentals of your chosen profession. As the name suggests, classroom experience mainly occurs in classrooms whereby students learn from instructors. But aside from lectures, laboratory sessions and group learning are also a huge part of classroom experience.
The foundational courses of radiologic technology are anatomy, human biology, chemistry, physics, physiology, and medical-legal studies. You can see the recommended radiography classes from the ASRT here. And as early as the second semester, patient care is also integrated into the curriculum. Mastering patient care ensures that as a rad tech, you will provide care that is respectful and responsive to individual patient preferences, needs, and values.
Additionally, there are plenty of hands-on activities in the radiologic imaging rooms of the teaching institutions. These exercises ensure proficiency in using imaging equipment in routine exams and trauma scenarios. You're also educated on patient positioning, performing diagnostic imaging tests and radiation safety & protection. List your classroom experience in the Education section.
Why should my resume include classroom experience?
Classroom experience assures prospective employers and recruiters that:
You have been taught a solid foundation of the basic sciences in your area of study.
You should have a great understanding of the ethical and professional issues and can be trusted to conduct yourself appropriately.
You should be well aware of proper patient care and will achieve patient satisfaction.
You can produce accurate diagnostic images while providing appropriate patient care.
Equipment Knowledge
The main job task of a radiographer is to carry out diagnostic imaging tests. And this requires the use of various radiology equipment. And as a radiologic technologist, ensuring the effective operation of said equipment is part of your job description. You are in charge of preventive maintenance checks, equipment troubleshooting, calling for repairs, maintaining equipment catalogs, and assessing new equipment and techniques.
Therefore, equipment knowledge is the skill to use equipment used in your field of study. An X-ray tech that can operate a GE Portable X-ray Machine, a Philips General X-ray room, and a Siemens Fluoroscopic C-arm, should note this in the Skills section. As an aspiring X-ray tech, keep in mind that having the technical know-how of various equipment increases your job prospects.
Why should my resume include equipment knowledge?
Listing your radiology equipment knowledge has several advantages of which include:
Improving your marketability hence more job prospects.
Assuring potential recruiters and employees of your expertise in using medical imaging equipment.
Demonstrating your dedication to your career by expanding your skillset.
Professional References
Whether to offer up references or not to, is somewhat a dilemma in resume writing. While some believe it's crucial, others deem it unnecessary. But there's a third option where, at the bottom of their resume, some job seekers write "References available upon request." They do so to alert potential employers of there being people that could attest to their work history and skills should the need arise.
As a rule of thumb, references are not compulsory. So instead optimize your resume space by highlighting more of your skills and or achievements in radiography. But some situations do call for references, these include:
A job listing that states an employer would be interested in contacting your references.
Having references who are well known and respected in your field of study. Recruiters might find this impressive hence positively influencing your chances of getting hired.
On the other hand, some situations call for you to exclude them. These include:
A resume that already feels too long or is tight on space.
An employer that clearly states they don't require references. Adding them would have prospective employers think you don't follow instructions.
If you establish that you need references, your next step would be to choose them. The best people to act as your references are a former employer, preferably a mentor and your professor/lecturer/teacher. Your references should never be relatives or family friends. However, they should be people that know you well.
So go for someone you've worked closely with or a lecturer you get on with well. Ideally, this is someone that will speak very highly of you, your skills, and work ethic. Ensure to ask for their permission to act as your references before passing on their names to potential employers. Two references are enough unless the job listing states otherwise.
References plus their contact information are usually the last entry on your resume.
Why are references important?
Professional references can considerably favor your odds of getting a job should potential employers call them. They vouch for your credibility, competence, and professionalism hence assure employers of your suitability for the job opening.
Skills – Soft and Technical
Employers look for both technical and soft skills when hiring radiologic technicians. Technical skills are the abilities and knowledge needed to accomplish specific tasks. Soft skills are less practical and have more to do with interpersonal skills. They describe your approach to relationships and various issues in the workplace.
Necessary soft skills as an X-ray tech:
Communication Skills
Your job will involve plenty of interaction with both patients and colleagues. Your patients will have different backgrounds and will differ in age, gender, race, ethnicity, political association, class, and personality. And seeing as part of your responsibility will be to explain procedures to them, you'll have to communicate effectively with each one of them.
Empathy
Some patients may be in severe physical or emotional pain so you should, if possible, avoid causing them further distress. Having empathy will naturally make you more considerate, supportive, and caring.
Stress Management
Stress is a daily part of being a healthcare professional. Therefore, you should have the ability to perform effectively even under pressure. Stress management techniques like exercising, meditation, and getting social support can help you in this.
Teamwork
Being a team player means you "play nicely" with others. It shows you respect the views and opinions of others and express your own clearly and respectfully. And hence can effectively work with others to achieve a common goal.
Observational Skills
For a radiologist to properly read and interpret medical images, they must be clear and accurate. And it's your job as an X-ray tech to provide said images. Therefore, you should have a keen eye for detail to prevent a misdiagnosis through a mix-up of patient files. Equipment maintenance is also part of your job. So you should be able to tell when equipment settings are even slightly off as this could prevent radiation sickness.
Self-confidence
The high tech medical imaging equipment you will be working with may seem above your paygrade. But trust your abilities and this way you'll perform your duties effortlessly.
Time Management and Organization
Realistic time management will both improve productivity and the quality of life. Time management calls for setting goals, creating organization plans, delegating, and relaxation.
Flexibility
Radiography isn't a 9 to 5 career. Somewhat long working hours and some days of staying late. And not to mention, you will regularly be on call including on weekdays. So to adapt to and thrive in such a career, you will need to be flexible.
Necessary technical skills an X-ray tech requires.
Fluoroscopy
Fluoroscopy is a medical imaging technique that shows a continuous X-ray image on a monitor. The procedure involves passing an X-ray beam through the body. Images are then transmitted on a monitor so the movement of internal structures and medical instruments within the body, can be observed. A contrast agent or X-ray dye is sometimes used to enhance the visibility of the organs and structures.
Being able to perform fluoroscopy boosts your marketability since it is involved in various procedures like:
Examining the gastrointestinal tract using Barium X-rays and enemas.
Guiding joint replacements and treating fractures in Orthopedic Surgery.
Inserting and manipulating catheters such as a peripherally inserted central catheter (PICC). It helps direct their movement through blood vessels, bile ducts, and the urinary system.
Angiography is the medical imaging of blood vessels and organs.
Conducting a liver biopsy.
Examining the urinary system (kidneys and ureter) through retrograde pyelogram.
General X-ray
X-ray techs should be able to take X-rays of various body parts. An X-ray is a form of electromagnetic radiation that produces images of internal body structures by passing X-ray beams through the body. X-ray beams are absorbed in varying amounts depending on a structure's density. Some X-ray procedures may require contrast agents like barium or iodine.
Prospective employers will expect you to perform X-rays like:
Bone X-rays
Show fractures and infections.
Reveal signs of Arthritis.
Help diagnose osteoporosis by measuring bone mineral density (BMD).
Detect bone cancer by showing bone tumors.
Chest X-ray
Show evidence of lung infections and conditions like tuberculosis, pneumonia, and lung cancer.
Detect breast cancer through mammography, an X-ray test that examines breast tissue.
Show signs of heart failure by detecting an enlarged heart.
Reveal blood vessel problems like aortic aneurysms or clogged blood vessels.
Abdominal X-ray
Reveal digestive tract problems, make use of barium studies.
Show the location of swallowed objects like coins, buttons, safety pins et cetera.
Advanced Modality Familiarity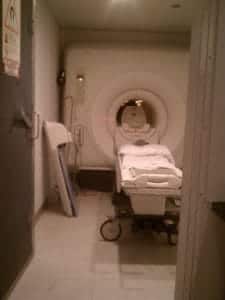 Computed Tomography (CT)
Computed Tomography, also known as Computerized Axial Tomography scan (CAT scan), is a type of cross-sectional imaging. It uses a narrow fan-shaped X-ray beam that circles a section of the patient's body which provides a series of images taken from different angles. A computer then reconstructs these images into two-dimensional and three-dimensional images. This career is an advanced position that a general x-ray tech can be cross-trained into for future career advancement.
CT scans are more detailed than X-rays. And doctors order them for a variety of reasons like:
Detecting infarction, tumors, and internal bleeding in the head plus skull fractures.
Detecting chronic obstructive pulmonary disease (COPD) like emphysema and Interstitial Lung Disease (ILD) like pulmonary fibrosis.
Looking for blockages, aneurysms, dissections, and stenosis of blood vessels using computed tomography angiography (CTA).
Detecting and diagnosing cardiovascular diseases like coronary artery disease.
Detecting complex bone fractures.
Detecting abdominal diseases.
Detecting and diagnosing cancerous tumors.
Seeing that X-rays might not always be enough to give a diagnosis, being familiar with CT will put you ahead of the competition. It is a relevant skill for any radiologic technologist to have so list it on your resume.
Portable X-ray
In some cases, patients can't go to the imaging room, portable radiographic equipment is instead, taken to them. Portable units use either standard radiographic film or digital flat panel detectors. However, the quality of the resulting images is not as high as those of fixed X-ray equipment.
Portable X-ray is especially useful in the diagnosis of patients in intensive care units (ICUs), emergency rooms, nursing homes, prisons, and shelters for the homeless. Smaller panels are mostly used in NICUs (neonatal intensive care units) and for extremity X-ray. The larger ones are used to perform most of the other X-ray procedures like chest and abdominal X-rays.
Having the technical know-how to perform portable X-rays increases your employment opportunities. Portable x-ray tech is in itself a career and, hospitals usually have one or a team of portable radiographers. It is therefore not redundant to have both X-ray and Portable X-ray as skills on your resume.
Barium Studies
Barium studies are tests used to enhance the visibility of parts in the gastrointestinal tract on a radiograph. Barium coats the inside wall of the GI tract which then appears white on an X-ray film. There are various types of barium X-ray tests used to examine different parts of the upper and lower gastrointestinal tract.
Barium swallow. Involves drinking a barium solution that is often fruit-flavored. The test is used to detect problems in the esophagus such as hiatus hernia and strictures.
Barium meal. Patients also drink a barium liquid. The test is used to look for problems in the stomach and duodenum like ulcers and tumors.
Barium follow-through. Patients drink a barium solution used to detect problems in the small intestine.
Barium enema. A small tube is inserted in a patient's back passage to pass barium liquid into the colon. The test is used to check for problems in the colon and rectum.
A resume with additional skills like barium studies stands out. And prospective employers will consider you a valuable addition.
Why should my resume include skills?
Skills are your way of telling potential employers what you are bringing to the table. So the more skills you have, the more employable you are. Additionally, having a broad skill set increases your job prospects. Don't sell yourself short, if it's relevant and you can do it, include it.
Past Patient Population
The patient population refers to the particulars of the people you have served. Radiologic technologists get to work with diverse patients with a range of medical conditions and who differ in various ways. Consequently, you will often need to approach medical imaging differently with your patients both on a technical and social front. Patient population includes:
Pediatric patients. Fetuses, infants, children, adolescents, and young adults fall into this class.
Geriatric patients. These are the elderly/seniors. Radiography can detect some problems that are common with seniors like osteoporosis, arthritis, and heart diseases.
Bariatric patients. These are patients who are overweight or obese. Medical imaging can help detect some issues that arise from being obese such as musculoskeletal problems.
Inpatients. This refers to patients who live in hospitals while being treated. Conditions that might call for hospital admission include pneumonia, acute myocardial infarction( heart attack), gastrointestinal bleeding et cetera.
Outpatients. These are patients whose health issues permit them to visit hospitals for diagnosis and treatment without the need for admission.
Include your past patient population on your resume under Work Experience.
Why should my resume include my past patient population?
The more diverse your past patient population is, the more marketable you are. Diversity shows prospective employers that you have interpersonal skills and that you have technical skills to perform various imaging procedures.
Familiarity with Different Hospital Departments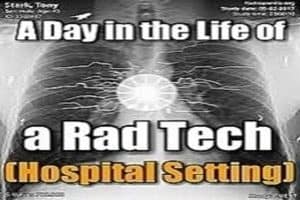 Healthcare is a vast field with various branches and even more departments. However, healthcare professionals who specialized in different areas of study often need to work together to reach a diagnosis and come up with effective treatment plans. And since radiography is an allied health profession, X-ray techs work in various departments like:
Intensive Care Unit (ICU). Chest X-rays are the most common imaging tests performed in the ICU to track patients' progress. Daily or every other day X-rays are done especially, on patients requiring respiratory support.
Emergency room (ER). Medical imaging in ERs is regularly required to diagnose sudden illnesses and injuries timely.
Oncology Department. Oncology is the medical branch tasked with the prevention, diagnosis, and treatment of cancer. Imaging tests are used to detect cancer, look for tumors/lumps, determine cancer stage, and determine whether treatment is working.
Neonatal intensive care unit (NICU). This department specializes in the care of ill or premature newborns. X-rays help detect lung and bowel problems in infants while CT scans assess internal bleeding in the head.
Wound Care Center. Radiography is used to determine the underlying reasons behind wounds that fail to heal well. Consequently, helping wound specialists come up with effective treatment plans.
Psychiatry Department. Specialists in this department deal with the diagnosis, prevention, and treatment of mental disorders. Showing past experience working in psychiatric departments shows that you are familiar with the variations in patient behavior that can affect obtaining diagnostic images.
Having work experience in various health care departments adds to your skills and boosts your equipment knowledge. Mention areas of hospitals you've worked in on your resume under Work Experience.
Why should I include Hospital departments worked in?
Working experience in different departments makes you more employable because it shows prospective employers that:
You can work well with others regardless of background.
You have a wide range of people skills and can cope with different mentalities.
You have mechanical aptitude to work around variables like age-related difficulties or mental instabilities.
Volunteer work
Volunteer work is willingly offering your services to help others and without pay. There are two types of volunteer work, those that are related to your profession as a rad tech and those that are unrelated. Career-related volunteer work counts as work experience and should appear on your resume in a similar format as past jobs. General volunteer work, if any, should be listed under the Volunteer Experience section, just below the Work Experience section.
Why should I include volunteer work in my resume?
Volunteer work makes you more marketable because potential employers and recruiters see a team player, a service mindset, self-motivation, compassion, interpersonal skills, dependability and, a variety of technical skills.
Award and Certificates
Only include an Awards section on your resume if the awards are related to your education and work experience. Mention scholarships in the Education Summary and awards received as an acknowledgment of a work achievement in the Employment History.
Awards received for something outside of your line of work should be listed in the Awards section. An award entry should indicate the date of recognition; purpose and accomplishment recognized; and scope of the award, was it regional, national, or international? Specify.
Certificates are official documents that attest you have the knowledge and skills to do something after passing a test. Relevant certifications to radiography include CPR (Cardiopulmonary resuscitation) certification, ARRT (American Registry of Radiologic Technologists) certification, BLS (Basic Life Support) certification, et cetera.
Add a Certifications section on your resume. A certificate format should show the name of the certification, name of certifying body, dates obtained, and location (if State appropriate). Certifications should be listed in reverse chronological order, beginning with the most recent. Do not include certifications that are not relevant to the job opening. And, write out acronyms in full at least once.
Why should I include awards and certifications on my resume?
Awards and certifications demonstrate a passion for your career. It also proves some of your skills. Both of which make potential employers view you as an asset.
Professional affiliations
Professional affiliations or professional societies are professional groups or organizations of which you are an active or registered member. These non-profit organizations are usually a valuable resource for learning opportunities, career advancement, and networking. Moreover, most of these societies offer publications, continuing education (CE), and organize annual meetings.
Professional societies aim to advance specific subsections of a profession as well as advance the career interests of its members. However, their main aim is to assess and recognize qualified individuals in various fields. They do this through credentialing organizations such as the American Registry of Radiologic Technologists (ARRT) which verify the qualifications of a society's registrants. Note, credentialing organizations are not professional societies.
Professional societies in medical imaging include:
The proper way to mention member groups on your resume will be to create a Professional Associations section. Spell out the acronyms as above when you list them.
Why should I include professional affiliations in my resume?
Belonging to at least one professional society is a great way to show your commitment to medical imaging. It also confirms your skills and credentials since these organizations only accept qualified members.
Keywords or Trigger Words for your x ray tech resume
Include radiography-related keywords in your resume. You can come up with keywords using:
Job titles such as radiographic technologist, mammographer, X-ray technologist, radiographer, CT technologist.
Areas of specialty or skills such as fluoroscopy, X-ray, ultrasound.
Credentials such as ARRT, BLS, CPR.
Why should my resume include keywords?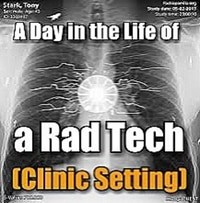 Keywords ensure your resume is found in an Applicant Tracking System (ATS) when recruiters run a search. Keywords "trigger" a search result when recruiters are looking for specific skills or attributes.
Latest Resume Format
Resume content and format both contribute to a resume's effectiveness. Of the three most common resume formats that recruiters acknowledge, a reverse chronological resume format is the most befitting for a radiologic technologist. The resume layout is:
Suitable for people with various work experiences.
Fit for people looking for employment in a field similar to their work experience.
Good for job seekers without long gaps in their work history.
The layout gives more emphasis to work experience, where entries are made beginning with the most recent. Work experience also comes before education and skills. Reverse chronological resume follows this format
Contact Information (your name, cell number, and email)
Resume Summary (where the value proposition goes) & Professional Title
Skills (both soft skills and technical skills)
Work Experience (includes clinical experience)
Education
Additional sections (such as Volunteer Work, Professional Affiliations, Certifications)
Importance of a reverse chronological resume format:
Clearly shows career progression and highlights your relevant skills.
It can easily be read by employers since they are familiar with it.
It is well suited for applicant tracking software (ATS).
If you would like to see my collection of professional resumes, send me an email. I'd be happy to send you a few examples. It wouldn't hurt signing up for our newsletter either. I plan to add current resumes that are so good they are worth sharing from time to time.
FAQs about Xray Tech Resumes
Q: How do you write a resume for the first time?
When writing your resume for the first time, you should start with a value proposition. The rest of your resume should prove the validity of your value. Follow the guidelines outlined in this article and you will have a top-notch resume.
Q: How do you start a resume?
The best way to start a resume is by writing a rough draft of everything you can think of from past jobs. Include all the titles, duties and equipment you have used. Add any special classes, seminars or training you received, whether related or not. After you finish gathering everything you can think of, then you begin organizing it into categories as listed in the articles above.
Q: How do I make a resume in 2019?
This article was written to give you the best information on how to create a good looking, relevant resume for current times. Go through the suggestions outlined in the article and you will do just fine.
Q: How can I make a simple resume?
Like it or not, you will be judged by your resume before anyone ever sees you in person. Simple resumes may not convey all that you need in order to get the job you are applying for and your competitor may have an extensive resume. To stay competitive, you do not want a simple resume.
Additional Information:
If you are curious about the career of radiography, I have written some articles on various topics:
I hope you find this helpful. You are welcome to email me with any questions. Thanks for stopping by TheRadiologicTechnologist.com.
Resources
Spiegel, L. (n.d.). Lynda Spiegel. Retrieved from https://wearevirtualassistants.com/resume-advice-to-differentiate-your-value-proposition/