Reading Time:
6
minutes
The typical day for a rad tech working in an outpatient clinic setting:
Clock in and say hello to coworkers
Briefly meet as a team and discuss the day's objectives
Check the daily schedule and plan for the appropriate patient volume
Check your examination rooms and control room for proper supply stock
Turn on the imaging equipment and perform the proper warm-up procedures.
Take care of each patient one by one and treat them as if they were your family
At the end of the day finish all paperwork and restock supplies
Make sure all that your images are in the right place
Shutdown the equipment and restock supplies
Daily routines in an outpatient clinic setting are different from the hospital setting. If you are interested in a typical day in the hospital setting check my article here. In an outpatient setting, you have a more stabilized patient load and zero trauma (outside of office drama, of course.)
In clinics, patients are sent to your location from nearby physician offices. Once a physician finishes examining his patient he will often times order an x-ray or other imaging exams. Because of the low acuity, these exams will be short and quick. It is not uncommon to see a new patient every 10 minutes. I know of a very busy orthopedic clinic that sees a patient every five minutes. These are a technologist who has been performing x-rays for a long time. They know how to be very efficient with each patient.
Imaging Patients – Reviewing Documents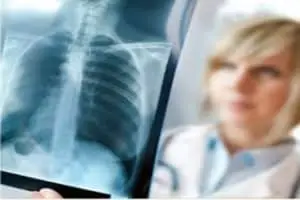 This will be the bulk of your day. Patients will come to your area with an injury. After a warm greeting and introduction, the patient should know your name and what you do for the clinic. You will then review the exam order to make sure the information is correct.
First, you have to verify their identity. Common rules say you have to ask for two or three "identifiers." Identifiers are the name, date of birth and/or medical record number. You always ask them to say this information. You never read the information from the order out loud and ask if it is accurate. Many non-English speaking patients will simply nod their heads yes to every question no matter what.
Second, you verify the reason they came to the clinic. This will help to verify if the correct exam has been ordered by the doctor. Technologists will come across times when a patient will say their left arm is hurt but the order says to do an exam on the right arm. A quick visit with the ordering doctor will clear this up and you can get back on track with a corrected order. Once you have the patient identified correctly and the order is correct, you can proceed with your examination.
Imaging Patients – Prepped and Ready
Some exams will require that the patient changes out of their street clothes and into a clinical gown. Anything with metal should be removed if it is on the body part being imaged. A chest x-ray, for example, would require the removal of a shift if it had metal snaps down the front or on the pockets. A woman's bra would also need to be removed if it contained metal underwires. Watches come off for wrist x-rays and jeans come off for pelvic or leg x-rays.
With the patient properly prepped, you can begin the positioning and acquire your images. Once completed you can let them patient change back into their personal clothing. You can be completing your paperwork while they are getting dressed. Once they are dressed you tell them the doctor will get the results in the next few days and off they go, back to the exam room, lobby or out of the clinic.
Workflows That Cost the Tech Time
One greatly efficient clinical model has an employee of the clinic designated to be a runner. A runner is a person who brings the patient to the radiology suite. The runner also returns the patient after the exam back to the appropriate location in the clinic. This allows for the radiologic technology just to focus on simply obtaining the x-rays.
When the technologist has to transport the patient to and from the imaging department, you will see productivity drop by 25% or more. Patients will start to back up in the lobby or clinical exam rooms. Physicians and nurses will become annoyed. The best option to keep a busy practice moving smoothly is to have someone besides the tech escorting the patients around the clinic. But in many cases, you will be doing this job as a technologist.
Burning Patient CDs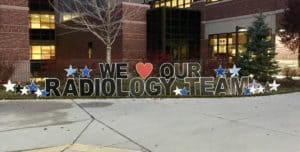 Patients often arrive at their appointments with a compact disk. This disk has their prior images store on them. The attending physician can see these images and compare them to the ones they are about to get from their visit that day. Radiologists always look at comparison images before dictating their final report. 
Someone in the clinic has to be trained on how to upload these disk images to the office computer system. The picture archival computer system, or PACS, is where all of the images are stored permanently. Every technologist knows how to do this.  The problem is, each time a disk has to be burned it could cost 5 to 10 minutes. If this job is left up to the technologist, they will lose up to 25% of their productive time.  If an office staff employee is trained to do this it can help the rad Tech to focus on their main task and allow them to see a lot more patience. You could end up shouldering the burden on this one as well. 
Back Office Duties
In a smaller clinic, it is highly likely that the radiologic technologist will be asked to help out with other duties. This can include taking blood pressures and assisting with charting. I have seen some technologists also trained in phlebotomy. That means they will help draw blood in between x-rays. A tech can help to answer phones and assist with patient scheduling. The more productive each member of the team can be, the more job security there is for everyone.
The x-ray tech in this clinic setting can also be in charge of inventory and ordering supplies for the whole clinic. Much to the dismay of the technologist, I have even seen them be asked to shovel snow from in front of the clinic in the winter. Every situation will vary but be prepared to help out. A technologist who sits around when there are no images to be captured will soon find themselves being relocated at the request of the clinic management.
The End of the Day
At the end of the day, you will be double-checking all of your exams. Make sure all of the documentation is completed properly. One wrong keystroke and billing codes may not drop appropriately. Without the right billing codes, there will be no reimbursement for your work.
You also have to make sure all of your images have been assigned properly. Each exam gets assigned to a worklist so a radiologist knows to review it. Failure to assign one exam could mean it will sit over the weekend and not get reviewed until the next week. Radiologists despise when this happens. They are graded on the report "turn around times." When a study gets left off the worklist, it affects their reports.
Last is to shut down all of the imaging equipment. This is done in a certain order and this based on manufacturers' recommendation. Restock your room supplies while waiting on the system to shut down. Once all this is complete, you can head home.
The good news is that once you leave the office, you are done until the next shift. There's no on-call work in clinics because most don't have evening and weekend shifts. Some may have a Saturday morning if they are a really busy clinic. But compared to a hospital, it is much less stress after hours.
Additional Information:
If you are curious about the career of radiography, I have written some articles on various topics: 
I hope you find this helpful. You are welcome to email me with any questions. Thanks for stopping by TheRadiologicTechnologist.com.
Ron – [email protected]