Reading Time:
9
minutes
Who Makes More Money, A Rad Tech Or Nurse?
Having a difficult time deciding which to pick – Nursing School or Radiology School? We know there are so many opinions about these two careers that baffle people, but if you want to only know about who makes more money between these two. 
So, who makes more money, a nurse or a radiology technologist?
According to the Bureau of Labor Statistics, the median income of a rad tech is around $61,240, whereas the median salary of a nurse is $71,730 for the calendar year 2018.  Now, If you are an RN or a Rad Tech you might be saying "No way, I know (blank) in the other career is making more money than me!" These rates of salary are always going to be different depending on location, years of experience, and many more factors. The numbers listed above are the BLS listed statistics.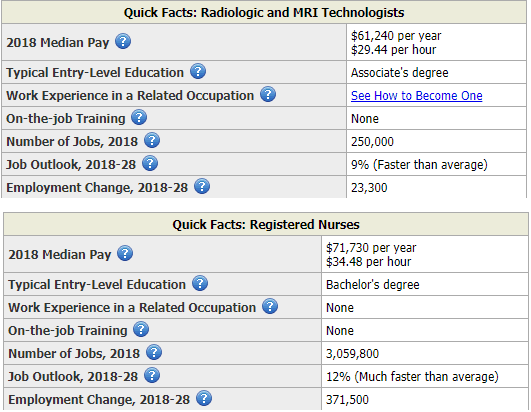 But these statistics shouldn't deceive you in choosing the career. 
There are lots of factors that play a significant role and affect the ratio of the salary. For example, when a nurse takes advanced training in a clinical specialty, the income can reach from $80,000 to more than $150,000. These include training to perform nurse anesthesia or nurse practitioner skills. 
The key difference between these two is one uncovers medical conditions, while the other provides short term or long-term care. Therefore, the job requirement is different; you need to decide which type suits you the most and keeps you interested in the career. 
Both careers are in high demand and make excellent career choices too.  
Below are some extensive and special details about them that will help you better understand why the difference in the salary isn't so different, and why you should ponder the job responsibilities more to make a solid, long term decision. 
Is A Rad Tech A Good Career?

 
Absolutely! And in very high demand. 
In radiology, jobs are available for people with varying levels of education. 
We have radiology technologists, radiology assistants, radiology nurses, and radiologists. Today, we will talk about the radiologic technologist and show you why it is a good career. 
Most people confuse radiologic technologists (Rad Techs) with radiologists because the names of both of them are very similar. The main difference between both of them is the level of education.  
A rad tech goes to school for two years to learn how to perform exams on patients. These exams help to see inside the patient to help see what could be causing the patient problems. The radiologist is a physician who went to school for up to 16 years in order to learn how to evaluate and interpret the images taken by the rad tech. Rad Techs do the xray. Radiologists interpret the xray. Neither one can do the job of the other person. 
Duties & Responsibilities

 
As a rad tech, it is your choice to specialize in one type of imaging or several.  
However, remember, there are some fields in the radiology that can advance you quickly. For example, after becoming licensed in general radiography (Xray), you can learn Computed Tomography (CT), Magnetic Resonance Imaging (MRI), Ultrasound (US), Nuclear Medicine (NM), Mammography (M), and more. The career ladder in the field of radiology is vast and exciting. 
So, choose your specialization courses wisely. 
The job responsibilities of a rad tech include operating the equipment, conducting the test using x-rays, CT, MRI, position patients, and equipment, follow procedures that prevent unnecessary exposure to radiation, keep track of and organize patients' records, and explaining the procedure to the patients. 
A radiology technologist also uses the equipment skillfully. He or she needs to have great control and understanding of it.  These are the tools used to produce high-quality diagnostic images every time. 
Reasons To Become A Rad Tech

 
We know people choose the rad tech career as it is in-demand, but if you need more convincing, here are a few more reasons to become a radiologic technologist. 
Additional Specializations…

 As we have revealed before, rad tech isn't just one specific field. Once you become a rad tech, this career opens up to additional specialization. It is utterly up to you to determine what kind of growth and respect you want in your industry. You can have specialization in more departments like radiation therapy, nuclear medicine, and mammography. More specializations mean more growth and more income.

 
Portable Career…

 Experts call it a portable career. Your career isn't dependent on a single company. You can become a travel rad tech and combine your love of travel with your job. Each new temporary contract will take you to a new place and help you earn a better salary than those who are permanent. Moreover, you can contact the job placement agencies as they are well-connected to the hospitals and can help you find those jobs/contracts that provide contract completion bonuses and increase your overall earning.

 
Long Term Career…

 It is not just portable, it is indeed a long term career too. Recent statistics and surveys show that the demand for rad tech will increase at least 9% from 2018 through 2028. Besides, with further certifications, the salary will increase too. This field is consistently showing higher than average job growth and expected to grow faster in the future than average for all occupations. Just between 2014 and 2024, more than 17,000 jobs are expected for the rad techs. They will be in immediate and sustainable demand in hospitals and clinics.

 
State-of-The-Art Technology…

 Yes, you keep up with medical technology. You are in fact at the center of innovation. Unlike other healthcare professionals, as a rad tech, you are always at the forefront of innovation using medical technology daily. But it is your job to learn and study the new equipment and technology to offer the best images for the physicians so that they can diagnose and treat the patients in the best possible manner.

 
Interesting Work… 

The great thing about this career is you don't do the same thing every day. There is a high chance you'd be compelled to do many different procedures using many different technical devices. For instance, taking special class training on new equipment, working with the radiologists who interpret the results, record the test results, etc. You also have the chance to work in your favorite work settings. If you don't find comfort in the hospital, you can work in outpatient clinics, physicians' offices, and even government agencies.

Or start your own mobile company!
Vital Role In Healthcare…

 You play a vital role in healthcare because more and more doctors are now counting on precise diagnostic tests before treating their patients. You not only help the doctors but also prepare the patients both mentally and physically by comforting their pain and anxiousness. When they know what issue they have, it becomes easy for them to ask questions regarding their health and get healthy quickly.

 
Healthy Wages…

 Believe it or not, you can make healthy wages without an advanced degree. Of course, it is recommended by the experts to have at least a four-year degree, but you can have a good job in this field with just an associate or two-year degree program. With a two-year degree or any kind of certification, most states will require a license. Therefore, this is perhaps the only career where you can have less education and can still bring home an attractive salary. Perhaps, for that reason, it is growing tremendously.

 
It is a fulfilling career; your work helps in saving countless lives. 
Jobs as a rad tech are usually full-time position but for handling emergencies you sometimes work odd hours too. There can be part-time work as well. 
One of the few drawbacks you see in this career is that rad techs are at risk for contracting illnesses from their patients. This is perhaps the only reason that prevents people from opting for this career. Rad techs are also likely to see blood and other uncomfortable traumas, depending on the environment you work in. Lastly, the level of radiation to a rad tech is minimal when wearing the provided protective lead aprons at work. 
So,  if you are planning to have just a two-year degree, you can expect to earn $19/hour at least without any experience. 
This income is still a lot higher than the minimum wage. For more information on rad tech salary, read my article here. I also shared the top 5 reasons to choose a career in radiology here. 
Is A Nurse A Good Career?

 
Absolutely! And in very high demand. 
Nursing also offers a wide range of career opportunities. 
But the real question is what kind of nurses get paid the most? 
If you are an aspiring nurse and registered too, you can expect to relish a median annual wage of $71,730. With additional certifications and advanced degrees, you can expect to earn more and qualify for positions at more prestigious hospitals. 
However, before choosing this career, remember that unlike a rad tech, nursing careers have different levels of care that determine the job requirements and income. The level of care in an emergency department is completely different than the level of care in an outpatient clinic, for example. 
The general nurse practitioner, which is the most common, works in a variety of primary care settings. In 2022, this nursing type is expected to experience a 34 percent growth, and with some experience, the annual income would be $113,930. 
To have this exceptional benefit and salary, you must earn an advanced degree like a Master of Science in Nursing (MSN.)
Without this degree, you can't become a professional general nurse practitioner. 
As a general nurse practitioner, you work in hospitals, clinics, and other agencies. 
On the other hand, a family nurse practitioner is also a very common subspecialty. It is the type of nursing that is closest to functioning like a primary care physician. This type of nurse is always in demand as their responsibilities include patient consultations, assessments, and prescribing meditations. That's why they can work for a variety of healthcare institutions. 
The average income of an FNP is still $113,930 but it depends on experience and location. However, apart from the Master's Degree, you need to have the Family Nurse Practitioner Board Certified designation. 
With this designation, you can work in hospitals, clinics, and staffing agencies. 
In case you can't acquire an advanced degree in the nursing field, you can become a pain management nurse also.  
Experience as an RN is enough to have this certification. This type of nurse can work in many different settings too and earn an average yearly salary of $90,000. It is a bit more than other careers but currently, the demand for this profession is rather strong. Since a pain management nurse is always required in nursing homes, clinics, hospitals, and rehabilitation centers. 
How Long Is A Nurse Career?

 
It depends upon the level of dedication and degree. 
With an associate degree, you will have only entry-level opportunities and you can't expect to earn more than $60,000/year without any experience. 
Similarly, the bachelor and master degrees take more time but they give you an edge in many ways.  You cannot only earn more but also turn yourself into an autonomous practitioner called a DNP or Doctor of Nurse Practitioner. For that reason, try to have a bachelor's or master's degree before beginning your career as a nurse. 
This is the best you can do for your career. 
With the degrees, you can take the Medical College Admission Test (MCAT), which is all about problem-solving, critical thinking, and knowledge of scientific concepts and principles. 
Bear in mind, the MCAT should be taken within three years of applying to medical school. In a way, you have to study for three years more to become a professional-level doctor. Many medical schools prefer nurses more than undergraduate students as nurses have more experience in the healthcare field and they perceive how the entire medical system works. 
It is also straightforward for them to achieve high marks in the medical college admission test. 
If you are thinking about why nurses don't turn into medical doctors or why people prefer rad tech careers more, it is because the average cost of attendance at public medical school is $58,000 per year. Compare and contrast this with the fact that some public rad tech schools cost as low as $8,000 for the whole two-year program.  
According to the Health School Finder, there are some interesting factors that can increase your salary as a nurse, even if you don't have a master's degree or any special experience. 
You make more money when you do a job in a higher-cost area.

 

Night shift nurses make more money than day shift nurses.

 
You are worth more when you have experience and can handle any situation.

 
These are just a few benefits that you have as a nurse, but not as a rad tech. That's why it is understandable why we compare the income of nurses with the rad techs all the time. 
Conclusion

 
Nursing, for now, make more money that rad techs. But these numbers are always changing. They are actually pretty comparable for now. Entry-level for both remains at a two-year completion program. They both have great advancement opportunities. I have considered more than once if I would have chosen a nursing school if I had the chance to go back and start all over again. But my personal preference is to have brief interactions and look for solutions to solving problems. Rad techs are perfect for that. Nurses spend their entire shifts when the same patients and provide care instead of looking for problems. I recognized long ago that I'm not so much a caregiver as I am a compassionate problem solver.
If you can't decide, a great option is to become a radiology nurse. You'll see a little of both worlds and still have lots of opportunities.
 Resources
https://www.bls.gov/ooh/healthcare/registered-nurses.htm
https://www.bls.gov/ooh/healthcare/nurse-anesthetists-nurse-midwives-and-nurse-practitioners.htm
https://www.bls.gov/ooh/healthcare/radiologic-technologists.htm