Reading Time:
5
minutes
I came across some wonderful images on the internet the other day of numerous zoo animals undergoing medical imaging. I was so fascinated with them that I shared them on social media. By the end of the day, the post had been shared over 100 times and had thousands of views and comments. Clearly we humans are enamored with our four-legged (and other) friends. So I did some further research.
What is Veterinary Diagnostic Imaging?
the use of diagnostic imaging equipment such as MRI and CT scanners, ultrasound machines and Nuclear Medicine and PET scans on animals, birds, and reptiles. It is the same methodology used to diagnose humans but with a different protocol on how to acquire the necessary views.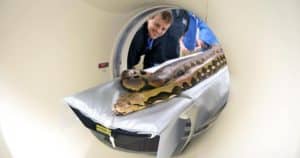 X-rays for ill and injured animals is a common practice at most larger veterinary offices. These days,  computed tomography (CT), nuclear imaging, ultrasound, digital fluoroscopy, nuclear imaging and magnetic resonance imaging (MRI) are being used to diagnose injury and disease in animals.
The use of diagnostic imaging is taught to physicians of veterinary medicine at large teaching hospitals around the country. Thanks to an increasing number of specialty veterinary clinics purchasing expensive equipment, more jobs for technicians and technologists to work with the docs are beginning to open up.
What is Veterinary Radiology?
just like their human counterparts, animals need medical care too. Veterinary radiology is a subspecialty of veterinary medicine that focuses on diagnostic imaging used to investigate the underlying cause of disease. 
As the comment kept pouring on on my posts on both LinkedIn and Facebook, one overarching theme could be detected: "How can I do that?!" In the world of diagnostic imaging, technologists are constantly working hard to deliver the best quality images in an effort to help the physicians determine the root of the patients' problems. An often thankless job but we keep coming back for more because that is what thrills us. Capturing the best images while working with difficult circumstances.
How Can I Get Into Veterinary Imaging?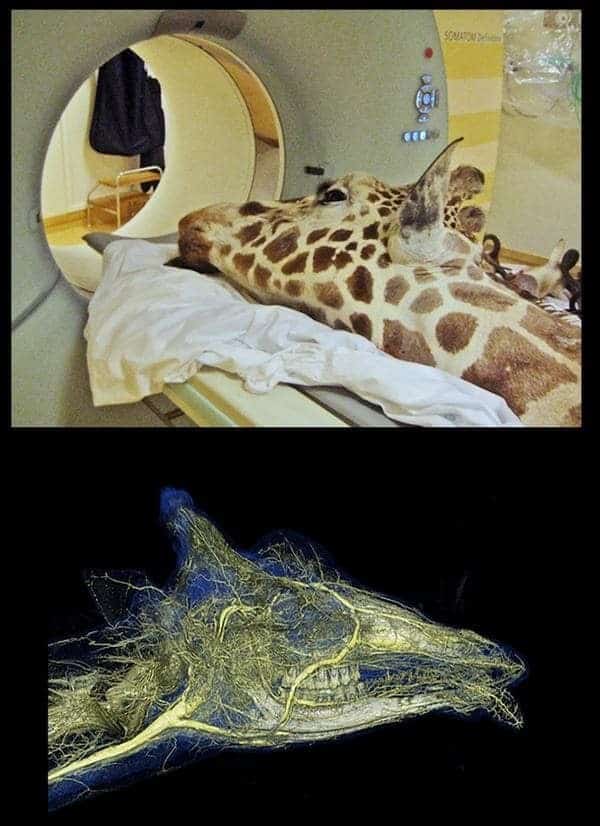 For those interested in expanding their skillsets to include imaging animals, I have some information for you. Here is some insight from a veterinarian radiologist and his two-cents on the topic of breaking into the field of veterinary diagnostic imaging:
"Most veterinary schools will employ one or two radiologic technologists in their radiology department. So will the largest veterinary specialty hospitals with a dedicated radiology department. But on average, there is one veterinary school for every two states.  The largest urban centers will have maybe one or two veterinary hospitals with radiologists.
That said, there is a nationwide shortage of veterinary technicians in the workforce. Radiology is one of a very few specialties where human medicine crossover is possible so even if you cold-call a department they will at least give you a second look.
If you look up the websites of most veterinary teaching & specialty hospitals, you can find a Career Page with open positions listed. One advantage rad techs have is that there is minimal regulation in veterinary medicine so you don't need to be licensed in a particular modality to operate it. At my hospital, for example, we have an RT(R) who does Xray, CT, and MRI. So if you want a little diversity, both in species and modality, it's a good option to look into."
What Qualifications Would I Need to be a Rad Tech in Vet Medicine?
The entry point into veterinary radiology is usually from the human medicine side, as advanced courses in radiography for veterinary technicians are limited and training is usually completed on the job. Most veterinary technicians, who complete a two-year or four-year course, are trained to do general  X-rays and sometimes other medical imaging like ultrasound.
There is no specific specialized certification for vet techs to do imaging but radiologic technologists who graduate from an accredited school can transfer their skills to animals and have the benefit of being imaging experts. It's an extra arrow in your quiver that should make for a smoother transition into the veterinary medicine field.
If you are a radiologic technologist interested in finding work in veterinary medicine, there is one attribute you absolutely need… you have to like animals.  It may seem obvious but not everyone has the skillset needed to work with animals. Animal handling skills are something that can be taught but only if you have a predisposition to like animals.
Some of the leading veterinary teaching hospitals include:
Veterinary diagnostic imaging sounds like a perfect fit for an animal-loving radiologic technologist. I hope this information helps to spur you into exploring all the great things that are out there for rad techs. If you already work in the field, feel free to leave a comment below and tell us what your experience has been working in the field of veterinary medicine.
Here are a few more animal imaging pictures I have found: