You know you have nothing better to do this weekend than to watch a B-rated horror film. Check this one out at Amazon for $5.99.
I had NO idea that this was even a movie until strolling through Amazon the other day. Since I frequently get things "Xray" related, this popped up in my suggested purchases. Of course, I had to check it out! The story is about a gilted boy's Valentine card being snubbed. Hee harbors a rage for 19 years until he decides to exact his revenge on Susan while she is getting her examination test results.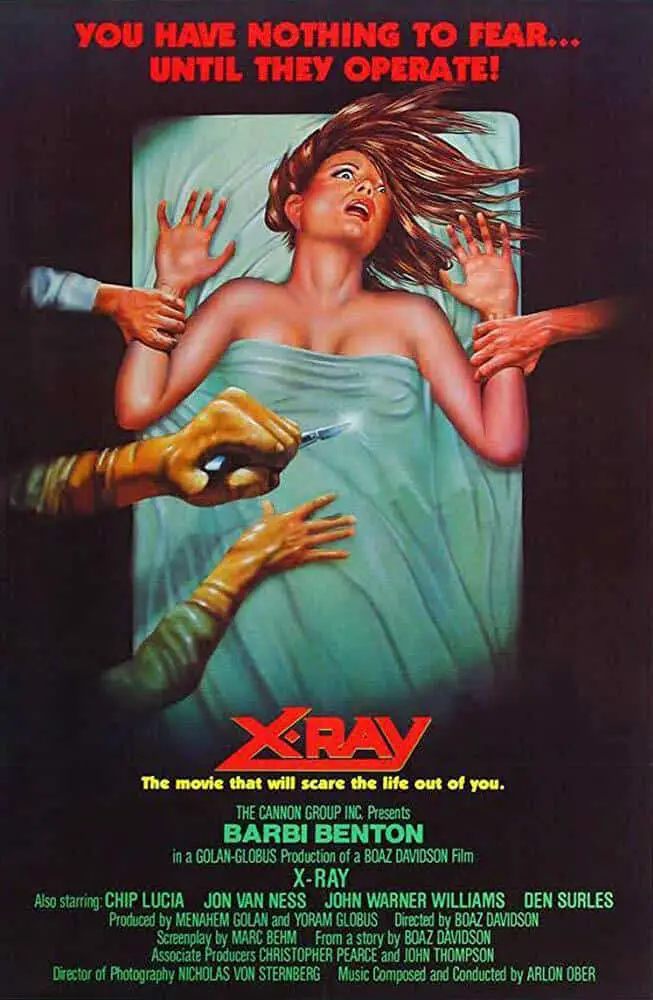 Here's the synopsis:
Barbi Benton stars as Susan Jeremy, a woman who stops by the local hospital for some test results. Her visit turns into a horrible nightmare when a vengeful childhood friend runs amok.
Much of the hospital staff is slaughtered in grisly ways, including a memorable acid-bath facial! Susan spends most of her screen time wandering around the hospital, looking mildly afraid. Of course, the murderous mayhem is interrupted for Ms. Benton's obligatory nude scene (as part of her checkup).
Will she ever leave the hospital alive? X-RAY is an extremely silly slasher film from the 80s. As such, it is every bit as absurd as it should be, complete w/ "ominous", chanting, devil-music soundtrack! It also has a bizarre cast of oddball doctors, nurses, and patients that help to keep things interesting.
If you're a fan of the 1980's slasher movies, this one fits the genre to a tee. But aside from the typical corny slasher stuff, the fun for me lies in the details…like the old hospital uniforms and equipment. And the X-rays are horrid. Most are extremely over-exposed and of course, some are hung backward. Make a game out of it. Grab some popcorn and an x-ray buddy and see how many bad x-rays you can spot in the movie.
My favorite parts for Death by X-ray (spoiler alert… like you care):
when the main character sits down outside of the doctor's office, in the hospital, and lights up a cigarette.
the post acid-face-bath conniption fit by the crazed madman
the creepy one-off characters (janitor, the man waiting to use the pay phone, lots of random weird people)
when the doctor looks at the contrast-filled abdomen film…upside down.
blood pressure checks that require the cuff but not the stethoscope
Anyway, a hilarious "horror" film to say the least. Enjoy the old school hospital background and total lack of good hygiene. There is a little bit of nudity in this old school horror flick so you have been warned.