What is a Registered Radiologist Assistant and How Do I Become an RRA?
The Registered Radiologist Assistant (RRA or RA) profession is reaching an unprecedented need in the radiology world. The need for advanced healthcare has made medical imaging become an indispensable part of the medical care landscape and radiologist assistants can help. The increasing number of retiring baby boomers who need medical care is starting to become a top concern in the healthcare space. This has created a surge in the need for radiologists and radiologist assistants, as well as many other radiology careers. If you are interested in taking up the challenge and becoming a Registered Radiologist Assistant, then this article will guide you. Read on.
The Basics – What is Radiology?
Radiology refers to a field of medicine that incorporates the use of imaging technologies to diagnose and recommend treatments for ailments. Radiology is particularly useful in the assessment of internal organs without opening up the human body to look at them. It incorporates different technologies ranging from x-rays to ultrasound waves and magnetic fields. If you are interested in the different job careers within radiology, check out this radiology career infographic. There you will find all of the different jobs you can do in radiology and more information about each.
What is a Registered Radiologist Assistant?
This is a highly qualified technologist who works under the supervision of a radiologist and serves as an assistant. Often referred to as an advanced practice technologist, the role is somewhat similar to a physician assistant minus the ability to write prescriptions. As an RRA, you will be tasked with helping the radiologist in doing patient assessments and patient management. You will also help the radiologist in conducting some of the radiology procedures on the patients that are entrusted to you, while the radiologist focuses on other work. The RRA Scope of Practice is determined by both the ASRT and the employer. The radiologist assistant salary is also among the highest in the imaging department but not as high as the radiologist.
Who Certifies Registered Radiologist Assistants?
The American Registry of Radiologic Technologists is a professional body that certifies and recognizes individuals in the field of medical radiography. Through an examination and credentialing process, it helps to come up with assessments that can be used to gauge the comprehension level of students before they can get the certification that allows them to serve in this field. The credential letters that follow behind the name of a technologist who passes this certification are ARRT (RRA).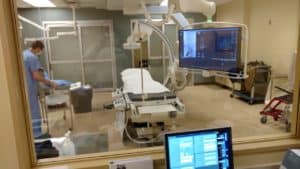 What Does a Registered Radiologist Assistant Do?
a) Check medical history – As an RRA, you will be the one checking the medical history of the patients when they come into the hospital to get an examination.
b) Assist the radiologist – The RRA is tasked with the duty of assisting the radiologist to perform a procedure on a patient if requested.
c) Checking the equipment – As an RRA, you will be required to check the functionality of each machine before the procedure.
d) Implement safety protocol – The RRA helps the patient in implementing the safety protocol during the procedure.
e) Evaluating information – Once the procedure is complete, the RRA can do a preliminary evaluation of the information that is derived from the procedure but never interprets images.
What is the Radiologist Assistant Salary?
ASRT says between $99,000 and $110,000 per year
According to the 2016 ASRT Salary Survey (membership required to access) of RRAs practicing in the field, the mean radiology assistant salary for an RRA is between $99,000 and $110,000 depending on if there are working in a "for-profit" or "not for profit" hospital system. You can find employment at hospitals or at private radiology clinics. Radiology assistant salary will also depend on how much experience you have accrued in your career.
What Schools Offer the Radiologist Assistant Programs?
A quick Google search can list several radiologist assistant programs for you but here are a few of them:
How Do I Become a Registered Radiologist Assistant?
The path to becoming an RRA is multifaceted. Credentials are required in order to apply to any RA program. Varying levels of both technical licensure and collegiate degrees will be required. Contact the school you are interested in to determine what is needed to apply. A partial list of RA schools is listed later in this article. To become an RRA, this is the path that you will follow.
How to Become a Registered Radiologist Assistant 
Supplies: None
Tools: None
Acquire Your ARRT Credentials in Radiography (~ 2 yrs)

The first step on the path to becoming an RRA starts with joining the radiography ranks. This means going to an accredited x-ray tech program. JRCERT sets the guidelines of what constitutes an accredited radiography program so make sure you evaluate any institution you are interested in for that credential. While many of these rad tech programs offer associate degrees concurrently with the radiography program, most RRA programs require a bachelor's degree for admission.

If you can find a radiography program that culminates into a bachelor's degree upon graduation, you will be one step ahead in your goals. After completing a certified radiography program you will need to get licensed by the ARRT. With these credentials, you will become a registered radiologic technologist (RRT) and be eligible for all further certification programs that the body offers if you complete the necessary requirements (CT, MRI, NM, etc).

Complete an RRA Accredited Educational Program (~2 yrs)

The RA program offers technologists opportunities to complete specialized education as a mid-level practitioner, which qualifies them to perform certain advanced procedures. The industry recommends that you spend a few years in radiography learning all that it entails. This will give you a solid foundation of what goes on in the world of radiography. When you feel ready and meet all prerequisite criteria, it is time to apply to one of the radiologist assistant programs.

The RA program equips you with the necessary skills that qualify you as a Radiologist Assistant. Much like radiography school, you have didactic and clinical education competency requirements. For you to move to the next certification step, you will need to clear this particular stage as has been laid out by the ARRT. The JRCERT has approved several institutions to offer this approved program, and it is necessary that this program is undertaken at these institutions, or it will not be recognized by the ARRT.

These programs consist of advanced coursework in anatomy and physiology, healthcare leadership, patient care, advanced radiographic positioning, limited image evaluation, and specific imaging procedures. There is also a lengthy clinical internship. Note that this particular program terminates with a Master's degree. In this case, a bachelor's degree is required for entry into the program. Here is a list of classes if you attend the Weber State RA program:

Like most careers out there, real-world experience is needed in the field of imaging as well.  Clinical rotations allow the students to spend up to a few thousand hours working in the actual setting of their chosen career. Mentored by a radiologist, the RA student will get hands-on training in the advanced practice procedures allowed by the agreed Scope of Practice. The ARRT website has links to a handbook that spells out the acceptable type of clinical experience. It is essential to go through this handbook so as to ensure you are doing the right thing in terms of gaining clinical experience in Radiography.

Become RRA Certified

Upon completion of one of the accredited radiology assistant programs, you will be eligible to sit for the ARRT board examination for RAs. This is a lengthy exam not unlike the same one you took to become a rad tech…only much, much longer. Once you identify your appropriate study guides, you can follow the same study techniques outlined in this article.

To be certified as an RRA, you will need to meet particular ethical standards that have been set by the ARRT. These ethical standards are required of any imaging technologist and spell out how an RRA is supposed to conduct him or herself at work and when dealing with other professionals in the field. The Ethics handbook also prequalifies people who would be eligible to start on the journey to certified RAs. If you wish to be an RRA, your moral ethics need to be at a standard that the ARRT considers to be worthy of a member of their association.
Tips for Exam Day
a) Exam Preparations
The ARRT certification exam for RRA is computerized. There are both multiple-choice questions (220 items) and case study questions (10-30 items). The exams have a tutorial time of 18 minutes for each format that you will be taking. This helps to orientate you on how to answer the questions and submit your answers. At the end of the test, you will be requested to take a short survey lasting ten minutes. This helps the ARRT get feedback on the exam and formulate ways that they can enhance the system. The exam takes a total of seven hours
Although ARRT does not recommend any particular reading materials for the ARRT certification exam, you can find valuable resources that you can check out by reviewing the exam content specifications. This helps give you a general idea of how to prepare for the exam. In the case of any disabilities, the ARRT allows you to make advanced preparations in accordance with the ADA act.
b) The Examination Day
On the examination day, there are a few things that the ARRT recommends that you do. These are;
i) Check-in early; arrive at the exam venue at least half an hour earlier. This helps to reduce the anxiety that comes with any other regular examination.
ii) Check-in; you will be required to present two forms of identification to facilitate your authentication before you sit the examination. You will be guided on this process once in the exam venue.
iii) Leave all personal belongings outside; you need to leave all your personal belonging outside the exam venue.
iv) Request ADA accommodation; In case of any disability, it is recommended that you request for the necessary accommodation.
v) Respond to NDA; you will be required to respond to the non-disclosure agreement in a maximum of two minutes. If you don't agree with this, then you will forfeit your chance to sit the exam on that particular day.
vi) Flag difficult questions; In the event that you are faced with a difficult question, you cannot continue until you have answered this. It is recommended that you guess the answer and then flag this question as difficult. Once you are done with the exam, if there is any time left, you can go back to these flagged questions and respond to it.
vii) Don't stand up from your chair; In the event that you need to get some assistance, ARRT does not recommend standing up from your chair. Instead, raise your hand, and you will be offered some assistance.
viii) The preliminary score is not final; once you have completed your exam, you will see a preliminary score displayed on the screen. This is not your final score as your final score will be mailed to you within three weeks. Raise your hand, and you will be dismissed from the venue. The staff present are required to rescan your palms once more as you leave.
Conclusion
Being a registered radiologist assistant is a very exciting and rewarding career. That's one of the things that brought me to the radiology space was all the different career options. It will take you two years to complete the radiography school. Then another two years to complete one of the accredited radiologist assistant programs. At the end of it, you will have an advanced academic degree, skills that keep you valuable in an ever-changing healthcare model, and the ability to earn a nice radiology assistant salary. I recommend checking out a career in any one of the radiology professions.
Thank you for reading our article about the radiology assistant salary and responsibilities. If you have further questions, please leave a comment on this article or send us an email through our Contact page.