Reading Time:
10
minutes
My Top 5 Scrubs for men based on two decades of working in healthcare:
Carhartt
Dickies Dynamix
Cherokee Premium
Greys Anatomy
KOI
One of the biggest perks to being a rad tech is wearing the most comfortable work clothes on the planet: scrubs. I mean really, everyone knows scrubs are like pajamas for work. No muss, no fuss… just slip on and slip off. There is the drawstring on the pants but whoopdie doo. Easy peasy. So in this post, I'm going to lay out my top 10 scrubs for men based on what I have personally used over the past 20 years. There are several product lines to each of the suppliers listed above. The following list narrows down to the product line level and takes into account the following factors:
Quality of material
Quality of construction
Breathability
Elasticity
overall fit
cost
color selection
overall style
Now, there are some things in life that you can be cheap with and buy the lower quality. Cereal for example. It doesn't really matter if you buy the expensive name brand or the cheap stuff in the big bag on the bottom rack. I would definitely save a few pennies and buy the bagged option for something trivial like cereal.  But not when it comes to the scrubs you will be wearing day in and day out. You really only need a handful of pairs to get you through the month if you are laundering them weekly. So my suggestion is to spend a few extra dollars and get a pair that will be comfortable, stylish and last you a long time. Let's get started!
1. Carhartt Ripstop Top & Multi-Cargo Pant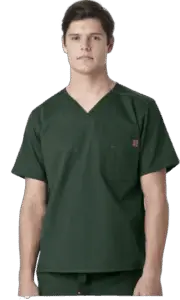 Comes in 15 colors =
standard tradesman chest pocket
tagless label on the back of the neck (so nice!)
the bi-swing at the back yoke means you have an extra swatch of fabric in the middle of your back for more comfort/reach.
the back of the shirt is 1 1/2 inches longer (read: better crack coverage)
the cargo pants have EIGHT pockets to store your wallet, gauze, backup markets, pocket guide, and more.
three utility loops offer the ability to add a belt. I use them for carabiners with my keys.
elastic back for added stretch and comfort with a tough drawstring to snug them up to the waist.
An added fly zipper means you don't have to untie and re-tie your drawers every time you make a pit stop.
These are by far my favorite scrubs of all time. In the beginning, it was the color selection. I personally like the Hunter Pine color. I"m a big fan of the Carhartt brand because it has proven to be very durable for outside work. Our last home was on three acres and I did a lot of work outside. The Carhartt work pants and shirts I wore lasted through yard work, raising pigs, and a ton of other abuses. That's why I decided to give their scrubs a try.
Once I wore a pair, it was the rugged look and durability that kept me loyal. These things are thick and tough. Plus it has all the tactical pockets a guy could want. Add some white monogramming for your name and credentials = SWEET!  (Plus, nobody can "borrow" them out of your locker that way!)  Makes for a commanding presence. I won't lie, I even wear these things around the house on my days off. They are THAT comfortable. You will NOT regret owning a pair of these. The khaki color is pretty nice looking too. Sometimes I wear the hunter top with the khaki pants and vice versa. It depends on how far away from laundry day it currently is…
You can see my favorite scrubs on Amazon here.
2. Dickies Generation Flex aka GenFlex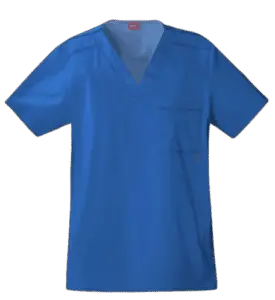 Comes in 8 colors =
These scrubs have a nice poly/cotton/spandex twill that feels smooth to the touch. Very comforting.
Front and back yokes for maximum stretching and flexibility, leading to an athletic feel
Standard tradesman pocket on the front with an added bungee loop
The left sleeve has a pocket with several sewn fabric loops for holding pens tightly in place.
Side shirt pockets come in handy for extra storage
Pants have a full elastic waist and a web drawstring – very comfortable.
These scrubs feel a little more… pampering. Which is weird considering Dickies have been known for decades as the go-to-source for mechanic uniforms. Industry leaders for taking a beating and repelling the grease and oil, they have kept that reliability in their scrub line. If you are familiar with the workshop line of apparel, you are familiar with the rugged, thick texture of the cloth. These scrubs are NOT of the same cloth family…so to speak.
The cloth on these scrubs is smooth to the touch with less of a rugged feel than the Carhartt scrubs or even the other lines of Dickies clothing. They do provide a tough barrier against spills and contain high durability. Both tops and bottoms fit very nicely with the full elastic waist. The fabric breathes nicely and feels a bit lighter than the Carhartt's due to the fabric type. I used these during the summer months when I worked in and around Phoenix Arizona. I was able to stay cool and comfortable regardless of my long shifts. These are definitely worth having for the warmer months. They remind me of wearing silk shirts because they are that lightweight. Mixing a few pairs of these with Carhartt's and you'll have a nice selection of variability. Neither will let you down.
You can see these Dickies on Amazon here.
3. Cherokee Premium Core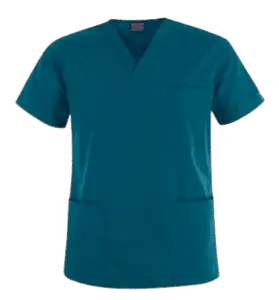 Comes in 8 colors =
Standard tradesman front pocket
Bilateral side pockets, very roomy
The additional cell phone pocket is sewn on top of the right side pocket
Cotton / polyester / spandex mix is slightly different than Dickies.
Premium pants have a right leg only cargo pocket with an instrument loop
Cherokee scrubs have been around a long time. If you work in healthcare long enough, somehow you will end up with a pair of these scrubs. I think mine came from a hurried rush to a Target store when I needed an extra pair and didn't have time to run across Phoenix to the specialty scrub store. There are several types of Cherokee scrubs and one model ranks in the "affordable" category below. Those won't last you as long but these Premiums certainly will.
There really are no frills about these although they do feel lightweight. They are not as soft to the touch as the Dickies but not as thick as the Carhartt's.  Durability is acceptable but mine tended to fade in color rather quickly. Once they start to fade, the tops and bottoms don't match up quite as well. Not that this is a big deal really. Just the only thing I could think of that really sets these apart besides lack of pockets and no extra cloth at the yoke. These did seem a little less giving when reaching out now that I think about it. I remember the sleeves starting digging into my upper arms just a tad on full reach. That might be due more to sizing the shirt correctly. Definitely try them on before buying and make sure you have full reach without restriction. Working codes in an improperly fitted scrub top with get your attention. These fall nicely in the moderate category on all features, including price.
You can see these Cherokee scrubs on Amazon here.
4.Greys Anatomy Active Scrubs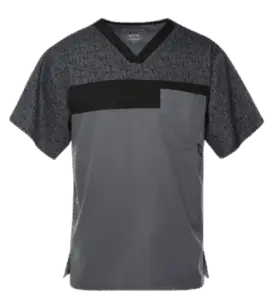 Comes in black / granite only
Standard tradesman front pocket with a pen slot
Black bungee ID loop below the pocket
Back yoke features a reflective logo
The 77/23 poly/rayon blend makes for a unique feel, somewhat stiff but workable
Pants have zippered fly and tack button closure AND a full internal drawstring. (hint: they AREN'T sliding down)
Two front pockets, double cargo pocket on the left with pen slot, cargo pocket on the right with utility loop & two back pockets
Bonus velcro closure on one of the back pockets is a nice add
These surfaced back when the hit tv series was popular. Anyone that works in healthcare found the show laughable but these scrubs are just the opposite. They have more than one style line but this particular line called Active is not only comfortable but uniquely fashionable. This is the only color set the Active set comes in that I know of and I liked it enough to purchase a pair.
Breathability remains high with durability intact thanks to the rayon. They tend to be a little more pricey thanks to the brand but not too bad overall. There are ample pockets and the pants have a zippered leg cargo pocket for extra safety. The only concern I have when wearing scrubs is losing my wallet. Traditional blue hospital scrubs are notorious for letting wallets flop out of the back pocket when you sit down. I prefer to put my wallet in my leg cargo pocket for that reason and because it is more comfortable to sit down when you aren't sitting on a big, lumpy wallet. The added zipper assures me it won't come flopping out on the group when I go running to a code.
Amazon carries this unique color pair here.
5.KOI Athletic Stretch Scrubs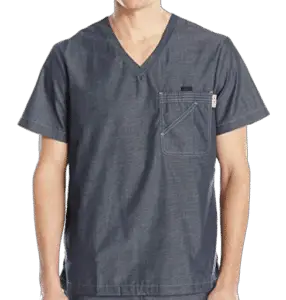 Comes in 5 colors =
Men's V-neck scrub top
Yarn dye fabric: 55% cotton, 45% polyester soft twill
Layered chest pocket, 2 side pockets, back pocket
Contrast stitching for style
Multi-needle stitching for durability
KOIs are a newer brand and honestly, I hadn't heard of them until my wife found them. Did I mention she is an Xray Tech too? She loves their scrubs for fit, style, and durability. I haven't bought a pair for myself but I have bought her several. She likes teal tops and bottoms. I have enough scrubs at this point but after seeing her and how well they hold up, I wouldn't hesitate to buy some for me. They come in a variety of colors.  I really like the stylish yard-dye fabric look a lot like denim. If I buy a pair, it will be to add cool denim set to my wardrobe. Add a pair of black clogs and these will rock the house.
She says they feel lightweight and fit very well. They haven't faded in over a year of use. These are the only brand of scrubs she has but that is partially because we haven't found many women's Carhartt's in person (she only buys them in person, never online.) KOI also has a terrific clog shoe line that I see a lot of nurses wearing around the hospital. My wife has a pair too. I'll have to do a review of shoes in a future post.
That rounds up my Top Five Medical Scrubs for Rad Techs list. I've listed links to all of the brands using my Amazon affiliate links which helps me keep the website "lights on" if you purchase your scrubs with them. But you can find these brands in several other places. Check your local shopping malls for uniform stores. There are also dedicated medical uniform stores in most towns. If you have a hospital nearby, there will be a medical uniform store not too far.
Hospitals sometimes run sales events on scrubs inside the hospital too. The ones I've seen allow for payroll deduction if you purchase right there on the spot. In my experience, these "sales" are usually overpriced but if you need a pair, it does save you a trip to the store. Take the time to find out which pair you really like. Then you can buy your next pair online and save gas money.
Here's the same set of KOIs on Amazon.
The Cheap List (because we've all been there)
If cheap is the way you have to go… and I've been there myself, then these are my top three choices that will get you by with minimal hassle.
1. Amazon Essentials Scrubs for Men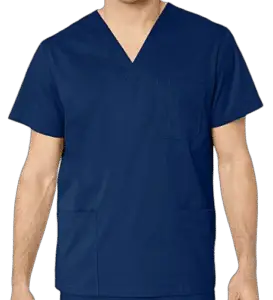 Comes in a ton of colors
Men's V-neck scrub top
Front tradesman chest pocket
Two front pockets at the waist
pants have layered cargo pockets and back pocket
64/34/2 poly/cotton/elastane (whatever that is?)
These are the no-frills version of the classic scrubs. You throw them on, work your shift and toss them in the laundry. No muss, no fuss. Low-cost price thanks to low-cost materials… like "elastane?" If you aren't concerned about any aspect except price, these are very affordable. Durability is lower than Carhartt's and the rest of my Top 5. I started with these a long time ago and wasn't impressed. Let's just say make sure to check the shoulders if you buy the unisex version. Mine had built-in shoulder pads… awkward.
Very affordable on Amazon at $16, see them here.
2. Cherokee Scrubs for Men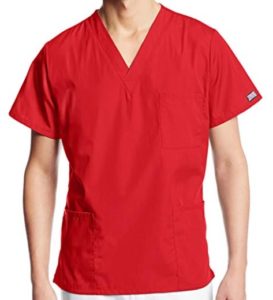 Comes in a ton of colors

65% Polyester, 35% Cotton

Imported

Machine Wash

V-neck

Patch pockets
Cherokee is one of those brands that is known for average quality scrubs at a good price point. I listed their "luxury" line in my top 5 but you can consider their WorkWear line as a good contender in The Cheap List. These can be found at just about any local Target, Walmart or Kmart. They fall in a very affordable category. I have seen Cherokee scrub tops for as low as $5 each.
Again, another no-frill option if you need scrubs in a pinch and don't live near a medical uniform store. The colors will fade quicker than my Top Five and you will notice fraying of the fabric sooner than expected. That's my experience but they serve a purpose.
This concludes my scrub review for men. I plan to do some posts in the future on Top Shoes and other gear. The hard part will be remembering to come back here and link to it. This might be a good time for you to subscribe to my newsletter so you can be updated on new posts.
Also affordable at $16.98 at Amazon here.
If you have a favorite pair that I didn't list, please leave a comment so I can review them. I'm always on the lookout for better stuff.
Additional Information:
My opinions on scrubs are formed through the lens of as a radiographer. If you are curious about the career of radiography, I have written some articles on various topics:
I hope you find this helpful. You are welcome to email me with any questions. Thanks for stopping by TheRadiologicTechnologist.com.
Ron – [email protected]