Reading Time:
9
minutes

What is radiation therapy and how is it used?
Radiation therapy, otherwise known as radiotherapy, is a treatment that uses high energy radiation to primarily kill cancer cells, slow their growth, and shrink tumors. However, radiation therapy is sometimes also used for thyroid disease, blood disorders, and nonmalignant growths. The radiation used for cancer treatment is called ionizing radiation because it forms ions in the tissue cells it passes through. X-rays are by far the most common type of ionizing radiation used in radiotherapy, but protons, electrons, alpha particles, or other types also can be used.
What are three ways to deliver this radiation:
External radiation/external beam radiation: a machine, usually a linear accelerator/linac, directs high-energy rays from outside the body into the tumor.
Internal radiation/brachytherapy: a radioactive source is placed directly into or near the tumor or in a body cavity.
Systematic radiation: radiopharmaceuticals are swallowed or injected into the body.
What are the types of radiation therapy?
The type of radiation therapy given to a patient depends on several factors, including:
The type of cancer

The size of the tumor

The tumor's location in the body

The tumor's proximity to healthy tissues that are sensitive to radiation

A patient's general health and medical history

Whether other cancer treatments are required
Moreover, radiotherapy is used at different times during cancer treatment and for various reasons, including:
As the only treatment

Before surgery to shrink a malignant tumor

After surgery to stop the growth of any remaining cancer cells

In combination with other treatments such as chemotherapy to kill cancer cells

In advanced cancer to relieve symptoms (palliative radiotherapy)
Radiation therapy as a whole involves several highly trained medical professionals such as a radiation oncologist, a radiation physicist, a dosimetrist, a radiation therapist, and a radiation therapy nurse. The services of a physical therapist, dietitian, clinical social worker, or other health care professional may also be needed.
What is a radiation therapist?
A radiation therapist, also known as a radiotherapist, is an allied medical professional that administers radiation treatments. Radiation therapists are part of an interdisciplinary team of oncologists, medical imaging technologists, medical physicists, oncology nurses, and others who together plan and administer radiation treatments and monitor the condition of patients (source). As suggested in the definition above, radiation therapy is an allied health profession.
Allied health professions are health professions distinguishable from medicine, nursing, and pharmacy. Medical specialists in such health professions provide various diagnostic, technical, therapeutic, and direct patient care and support services. Radiology technologists and radiation therapists are examples of the many allied health professionals.
What does a radiation therapist do?
As a radiation therapist, your duties and responsibilities may include but are not limited to:
Explaining treatment plans to patients and answering questions regarding the treatment.

Assist in determining the exact location of tumors.

Calibrating and operating machines, such as linacs, used to deliver high doses of ionizing radiation to a specific point within a patient's body.

Positioning patients for radiotherapy accurately.

Monitoring patients to check for unusual reactions to the treatment.

Maintaining detailed records of treatment, this may include radiation dosages and patients' reactions.

Protecting patients, self, and others from unnecessary radiation exposure by adhering to radiation safety policies and procedures.

Performing machine safety checks and reporting inconsistencies to the relevant authorities.

Using advanced imaging equipment for precise tumor localization and planning a course of radiotherapy.

Assisting radiation oncologists and the therapy team members prepare customized treatment plans for patients.

Assist in the preparation of sealed radioactive materials, such as cobalt, cesium, and isotopes, for use in radiation treatments.
Radiation therapist working conditions
Aspiring radiotherapists must understand and accept that the job will likely expose them to:
Radiation

Noise

Infectious/communicable diseases

Blood and bloodborne diseases

Chemicals and or chemical fumes and odors
Additionally, they must expect to deal with distressed patients and families regularly.
Is it safe to be a radiation therapist?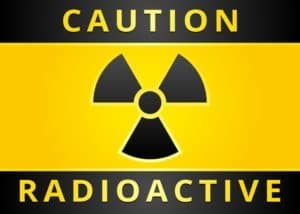 Radiation therapists operate the equipment used to deliver radiation treatment. And though they follow safety procedures, the Occupational Outlook Handbook by the U.S. Bureau of Labor Statistics states they are at some risk of radiation exposure. (source) There's also the matter of exposure to stress. In a medical or biological context, stress is a physical, mental, or emotional factor that causes bodily or mental tension.
Radiation therapists spend most of their days on their feet and regularly position patients for treatment by lifting and moving them. Said heavy lifting could eventually cause back, arm, or leg injuries. Working as a radiotherapist involves a lot of interaction with patients. When patients come in for regular treatments, therapists build a rapport with them and form emotional bonds. So when these patients' conditions deteriorate or worse, they die, therapists are overwhelmed with grief and anger.
Where do radiotherapists work?
According to the United States Department of Labor, radiation therapists held about 19,100 jobs in 2016. And their largest employers were as follows:
Hospitals (state, local, and private) – 64%

Physicians' offices -21%

Self-employed workers – 6%

Outpatient care centers – 5%
Most radiation therapists work full-time. And given that radiation therapy procedures are usually planned, they tend to have a consistent work schedule.
Educational requirements for becoming a radiation technologist
Find an accredited program for Radiation Therapy through the resources on this page, thanks to the ARRT.
Most radiation therapists complete programs that lead to a bachelor's degree in radiation therapy. In the last decade, several countries, including Australia and the United Kingdom, have set the bachelor's degree as the entry-level standard for radiation therapists. Radiation therapists must be licensed or certified in most states. Requirements to obtain licensure or certification vary from state to state. In nearly every state, however, the individual must sit for and pass a national certification examination. Employers usually prefer to hire applicants who have an associate's degree or a bachelor's degree in radiation therapy. However, candidates may qualify for some positions by completing a certificate program.
Radiation therapy programs include courses in radiation therapy procedures and the scientific theories behind them. These programs often include experience in a clinical setting and courses in human anatomy and physiology, physics, algebra, computer science, and research methodology. In 2016, there were about 110 accredited educational programs recognized by the American Registry of Radiologic Technologists (ARRT). (source) Most radiation therapists, however, begin their career training by completing an associate's (2 years) or bachelor's (4 years) degree program in radiation therapy. Employers require an associate's degree in radiation therapy but prefer applicants with a bachelor's degree. Candidates should have a high school diploma or GED certificate to enter a radiation therapy program.
Associate's Degree in Radiation Therapy
An associate's degree usually meets the minimum academic standards required by an employer. Students learn how to use radiation therapy equipment and gain hands-on knowledge through simulated medical situations. Associate's degree programs offer courses on:
Anatomy and physiology

Medical terminology

Radiologic technology

Medical imaging and processing

Sectional pathology
Bachelor's Degree in Radiation Therapy
A bachelor's degree program expands on the courses and concepts taught in an associate's degree program. Students learn advanced patient care and radiation therapy techniques while gaining more experience than in the two-year program. Typically, radiation therapy bachelor's degree programs include courses on:
Radiation equipment maintenance

Advanced patient care concepts

Ethical health care practices

Radiation protection

Biological aspects of radiation therapy
What are the radiation therapist competencies?
Following the completion of an education program at the degree level, a radiation therapist should be competent in the following eight areas:
Understanding and interpreting the treatment prescription
Able to interpret and evaluate a treatment prescription

Able to review prescribed medications against locally agreed protocols

Able to assess if the treatment intent is curative or palliative

Calculate the number of monitor units/exposure time for each treatment session to achieve the prescribed dose indicated by the physician

Alert the physician to any problems with the prescription
    2) Treatment preparation
Able to correctly position the patient

Able to prepare and or produce and store immobilization devices

Able to fabricate accurate shielding blocks

Able to conduct the simulation and mark-up procedure for all standard treatment techniques

Able to understand the place of treatment planning in the radiotherapy process and to operate the treatment planning system (TPS)

Able to inform involved personnel of relevant information and accurately prepare documentation
     3) Treatment delivery and patient management
Able to carry out the daily organization of the treatment unit

Able to accurately position, immobilize, and treat all patients

Able to prepare the patients for their first treatment

Able to complete accurate treatment documentation

Able to evaluate the patient performance status

Able to monitor, manage, and record a patient's side effects throughout the course of treatment

Able to advise patients on appropriate nutrition, sexual function, rest, skincare, nausea, and other symptoms

Able to support and care for the patient during a brachytherapy procedure
     4) Treatment verification
Able to carry out the necessary data transfer checks

Able to position the patient for treatment

Able to acquire the initial verification images

Able to carry out treatment verification

Able to carry out corrective actions

Able to check the dose delivered

Able to implement health and safety procedures
     5) Information management
Able to interpret, apply and disseminate information as a member of the radiotherapy team

Transmit knowledge to new professionals, patients, and families
     6) Professional responsibility
Able to demonstrate professional behavior

Able to demonstrate a sensitive and caring attitude to patients

Able to carry out best practice at all times

Able to participate in continuing professional development
    7) Radiation protection, health, and safety
Able to ensure radiation protection legislation is adhered to

Able to ensure that general health and safety procedures are adhered to

Able to report incidents and near misses
     8) Ability to critically evaluate practice
Able to identify the appropriate literature in the area of

interest

Able to suggest the implementation of research findings

Able to participate in local or international clinical trials

Able to suggest topics for radiotherapy research

Able to initiate and carry out a research project
Schools that offer radiation therapy programs commonly hold workshops for students. Workshops may address ethical issues in radiation therapy, patient care techniques or changes in radiation therapy technology. Some workshops may be taken for credit, while others are not associated with the radiation therapy degree program.
Licenses, Certifications, and Registrations
In most states, radiation therapists must be licensed or certified. Requirements vary by state but typically include graduation from an accredited radiation therapy program and ARRT certification. To become ARRT certified, an applicant must complete an accredited radiation therapy program, adhere to ARRT ethical standards, and pass the certification exam. The exam covers radiation protection and quality assurance; clinical concepts in radiation oncology; treatment planning; treatment delivery; and patient care and education. A list of accredited programs is available from ARRT. Many jobs also require cardiopulmonary resuscitation (CPR) or basic life support (BLS) certification.
Career advancement for radiation therapists
With additional education and certification, therapists can become medical dosimetrists. Dosimetrists are responsible for calculating the correct dose of radiation that is used in the treatment of cancer patients. This career path is an increase in salary and continues to be an important part of the medical team. 
Skills and traits needed in a radiation therapist
Detail-oriented. Radiation therapists must follow exact instructions and input exact measurements to make sure the patient is exposed to the correct amount of radiation.

Interpersonal skills. Radiation therapists work closely with patients. It is important that therapists be comfortable interacting with people who may be going through physical and emotional stress.

Physical stamina. Radiation therapists must be able to be on their feet for long periods and be able to lift and move patients who need assistance.

Technical skills. Radiation therapists work with computers and large pieces of technological equipment, so they must be comfortable operating those devices.

English skills. The ability to listen, speak, read, and write in English enables radiotherapists to effectively communicate with patients and colleagues.
Evaluating Radiation Therapy Schools
Before enrolling with a radiation therapy school, evaluate the following:
Accreditation, the program should be accredited by the American Registry of Radiologic Technologists (ARRT).

Class structure, optimal learning should be facilitated.

Focus, the program offered should prepare students for the ARRT certification.

Tuition fees and financial aid, inquire about the tuition fee and financial aid available such as grants, scholarships, and loans to help with the tuition fee.

Success history, investigate the success rate of the graduates who got ARRT certification in radiation therapy over the past couple of years. You should also inquire if passing graduates receive placement assistance from the radiation therapy school.
How much does it cost to become a radiation therapist?
The average annual out-of-state cost for a bachelor program in Medical Radiologic Technology/Science – Radiation Therapist is $36,590 and an estimated average four-year degree total cost of $146,360. The most affordable bachelor program is offered by Minot State University at an annual $14,254 out of state cost. Said tuition cost represents a 61% discount from the national average program cost. (source)
Weber State University has the nation's most popular bachelor program for Medical Radiologic Technology/Science – Radiation Therapist with 105 degrees awarded per year. For two-year Medical Radiologic Technology/Science – Radiation Therapist associate programs, the average total cost per year is $21,170. Therefore, the two-year program costs an average of $42,340.
Is radiation therapy in high demand?
Since cancer incidences increase as people age, an aging population may cause the demand for radiation therapists to increase. Additionally, continued advancements in the detection of cancer and the development of more sophisticated treatment procedures could also increase the demand for radiation therapy. According to the Bureau of Labor Statistics' occupational outlook handbook, employment of radiation therapists is projected to grow 13 percent from 2016 to 2026, faster than the average for all occupations.
Therefore, aspiring radiotherapists can expect some competition. Those with prior work experience in patient care positions and higher education, such as a relevant bachelor's degree, often get the best opportunities. Summary Radiation therapists treat cancer and other diseases by administering radiation treatments to patients. Radiotherapists work in hospitals, physicians' offices, and outpatient centers.
To become one, you must either complete a certificate program or have an associate's degree or bachelor's degree in radiation therapy. And most states require radiation therapists to be licensed or certified. The median annual wage for radiation therapists was $82,330 in May 2018. And the employment of radiation therapists is projected to grow 13 percent from 2016 to 2026.