Reading Time:
17
minutes

National Radiologic Technology Week® – The What, Why, and When of NRTW®
Rad Tech Week or NRTW® is a celebration of radiology techs everywhere. Did you know recognition/appreciation is a fundamental human need? Well, at least according to one interpretation of Maslow's Hierarchy of Needs. Maslow's Hierarchy of Needs is a motivational theory in psychology comprising a five-tier representation of human needs, depicted in a pyramid. You must first meet the lower needs in the hierarchy before attending those higher up. Here they are from the bottom up:
Physiological needs:

these are critical to human survival and include air, food, shelter, and sleep. If these needs are not satisfied, the human body cannot function optimally.

Safety needs:

examples include stability, physical security, law, and order.

Love/Belongingness needs:

these include friendships, intimacy, acceptance, and belonging to a group such as family. Recognition increases the feeling of belonging.

Esteem needs: are categorized into (a) esteem for oneself (e.g., dignity, status, self-confidence, recognition, freedom) and (b) the desire for reputation or respect from others (e.g., status, prestige).
Self-actualization needs:

this level involves the desire to become everything you are capable of becoming through creativity, learning, opportunity, challenge, and problem-solving.
A research project conducted by Forbes on employee recognition showed a direct link between Maslow's Hierarchy and our career needs. Researchers linked the need for employees to receive compensation and benefits with the need for safety. Recognition satisfies the need to belong and the need for self-confidence and respect. And finally, one's self-actualization needs in the workplace are met through career development.
Therefore, when a company establishes recognition programs, it's in reality meeting the fundamental needs of its employees. Doing so, in return, motivates them and encourages higher levels of discretionary effort. Aubrey Daniels, the founder and chairman of the board of directors of his consulting firm, Aubrey Daniels International (ABI), states:
"Discretionary effort is the level of effort people could give if they wanted to, but above and beyond the minimum required."
The American Society of Radiologic Technologists (ASRT) understands the value of recognition hence established National Radiologic Technology Week® (NRTW®).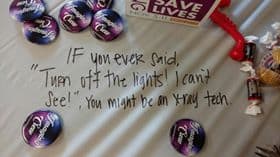 Rad Tech Week Celebration
National Rad Tech Week is an annual event to recognize the essential work of radiologic technologists all over the country. It is celebrated on the week of November 8 to commemorate the discovery of the X-ray by Wilhelm Conrad Roentgen on November 8, 1895. Roentgen was a German physicist and mechanical engineer. 
Discovering the X-ray earned him the first Nobel Prize in Physics in 1901. He was later honored for his accomplishments posthumously in 2004, when the International Union of Pure and Applied Chemistry (IUPAC) named element 111, roentgenium, after him. Roentgenium is an extremely radioactive synthetic element with multiple unstable isotopes.
National Rad Tech Week was first held in 1979 from July 22 to July 29. The weeklong celebration will this year, 2019, be celebrated November 3-9. And this year's theme is "Waves of the Future." Past themes have included, among others:
2018 – Powerful Together
2017 – Positioning to Save Lives
2016 – Beaming with Pride
2015 – Discovering the Inside Story
2014 – Many Views with One Vision
2013 – R.T.s: Positioning Ourselves for Excellence
2012 – It's What's Inside That Counts
2011 – One Goal, One Passion; R.T.s Joined in Patient Care
2010 – Delivering Picture-perfect Care
2009 – R.T.s: Improving Health Care One Image at a Time
Since 1988, a professionally designed poster is chosen to represent each year's theme. Before then, state affiliates used to bring their NRTW® poster art to the ASRT Annual Conference as part of a contest.  Below is 2019's NRTW® poster.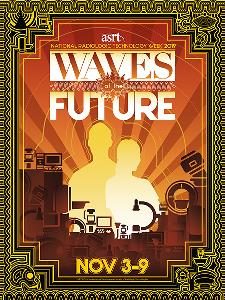 How to Have a Successful and Affordable Rad Tech Week Celebration
There are various ways to celebrate NRTW®. These include:
Planning a Successful Celebration
How do you do this? Well, ASRT has your back with this twelve-step guide to a successful National Radiologic Technology Week® celebration. The guide includes the following instructions, tips, and recommendations:
Create a plan with SMART goals, i.e., specific, measurable, attainable, relevant, and time-bound goals.

Assemble a team of motivated colleagues and community representatives to provide support and complete each step of the plan. ASRT further recommends asking your institution's public relations expert to be a part of the team.

Elect a chairperson and record keeper. Keep in mind a good leader knows how to assign duties.

Determine your goals, objectives, and promotional message.

Identify your target audience, which may include the public, fellow health care professionals, patients, and community leaders.

Write down your plan, determine what needs to be done to achieve your goals, and set deadlines. Additionally, consider every opportunity to promote your message.

Organize a volunteer program and sign up volunteers in your community. Ensure to explain to them the purpose of NRTW® and your goals.

Engage the community in planning your celebration by inviting other people such as business leaders, teachers, former patients, etc. to participate. Doing so is an effective way to spread the word about NRTW®.

Reach out to the media by contacting local TV and radio stations, newspapers, and magazines early on in the planning process. Brief their representatives on your plans and invite them to participate.

Purchase NRTW® merchandise offered by ASRT and Jim Coleman Ltd. as awards to recognize radiologic technologists and thank community leaders that support your efforts. These products can also be used as raffle items to raise funds for health care programs.

Share your ideas with other ASRT members by emailing the ASRT Marketing Department about your plans and keeping them updated. You may also get some tips from them in return.

Evaluate your efforts at the end of your celebration by formally analyzing what worked and what didn't. Post-project evaluation lays the groundwork for upcoming NRTW® celebrations.
Contact Members of the Media
Involving the media is a great way to publicize your National Radiologic Technology Week® celebration. Building interest and excitement for NRTW® increases opportunities for raising public awareness of the radiologic technology profession. Here's how you connect with members of the media: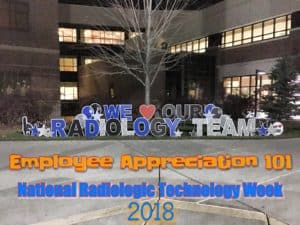 Contact members of the media by sending them a press release. A press release, also known as a news release or press statement, is an official statement delivered to members of the media to provide information or give an announcement. A news release usually has several structural elements. One promoting NRTW® activities would, for instance, include an engaging headline, your contact information, details about your event, and information about your affiliate.  
You can send a news release to members of the media through email. Media outlets usually have their contact information on their websites. The American Society of Radiologic Technologists shared the following tips on how to improve your odds of getting media coverage:
Familiarize yourself with your contact. Start by identifying journalists who report on healthcare and community news for your target media outlets. Then read or watch their past reports to know the topics they tend to cover.

Send the release in good time, such that the editors have enough time to put someone on your story.

Find out how far in advance you should send a news release for it to receive news coverage. 

Ensure brevity in communication as reporters and editors are usually extremely busy. 

Provide visuals such as high-quality professional photos, pre-recorded videos, or a spokesperson willing to go on air. Visually appealing content is more likely to be covered.

Proofread your work as journalists appreciate proper grammar and spelling.

Include a pitch to explain why the information you're providing is relevant to the media and their audience. The explanation should be part of your e-mail when you send your news release.

Call reporters to tell them why your information would make a good story and ask them to cover it.

Other than a news release, you can send a fact sheet, invite a reporter to your event, or add the event information to a media outlet's community calendar.
Here is a sample Rad Tech Week News Release Template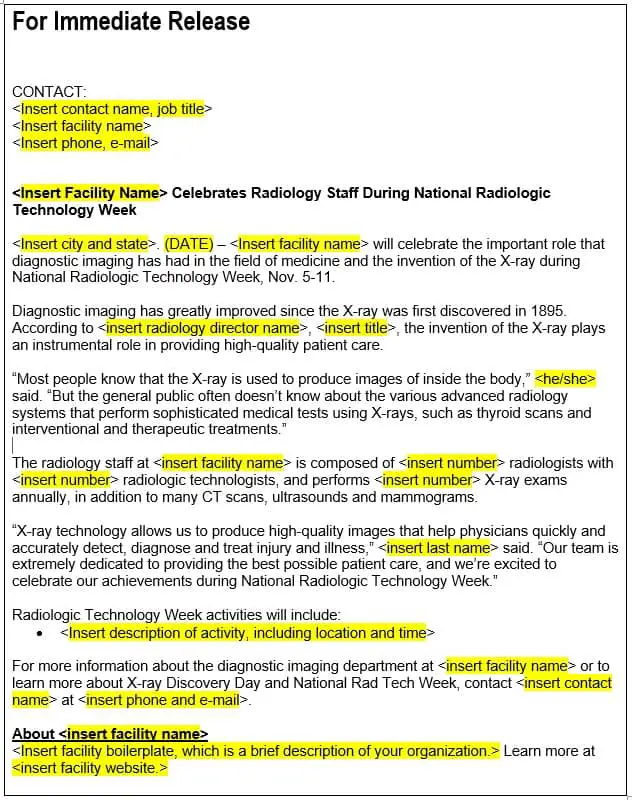 Connect with Reporters through Social Media
Journalists actively use social media to share news, engage with their audiences, and conduct research. They also look for news and story ideas through social media. Therefore, informing them about National Radiologic Technology Week® on platforms like Facebook, Twitter, and LinkedIn could prove to be an effective strategy. 
To improve your odds of connecting with reporters via social media, ASRT recommends:
Be yourself and show you're conversant with and find value in the particular platform you contact them through. For instance, if you don't use Twitter, don't create a Twitter account for the sole purpose of contacting reporters, they'll see right through it.

Build a relationship with reporters in your are through sharing their stories with your network and commenting on articles they write. Showing an interest in their work is likely to make them take note of yours.

Don't bombard reporters with messages, but instead give them time to respond to your inquiries. If you don't get a response the first time, follow up once or twice. When a reporter doesn't get back after you've reached out three times, assume they're not interested.
Request an Official Proclamation
Getting an official proclamation made by a local or state government is an effective way to create community and media awareness about NRTW®. Download the sample proclamation in Microsoft Word to send to your local, city, or state official asking him/her to recognize NRTW®. The letter should be printed on your organization's letterhead.
Note: Submit your request early since it can take weeks for an official proclamation to be processed.
Present to Young Audiences
Radcademy is a new ASRT resource for young audiences to learn all about medical imaging and radiation therapy. An easy-to-use website and a series of short videos highlight how medical imaging and radiation therapy works, its use, and who performs the exams.
Radiologic technologists use advanced technology to create critical diagnostic images and to treat cancer and other diseases. Educating the next generation on the valuable role medical imaging and radiation therapy professionals play in health care is crucial. Radcademy offers tools that radiologic technologists can use to explain their profession say during National Radiologic Technology Week®. 
Conduct a Public Forum
Organizing a public forum will increase local awareness and entice members of the community to actively participate in your NRTW® activities. Consider having a few speakers talk about their experiences with medical imaging and radiation therapy. Your selection of speakers may include R.T.s in various disciplines, other health professionals, former patients, or even local celebrities. Each speaker should give a brief presentation, followed by a question-and-answer (Q&A) session.
Additionally, set up a table for printed resources such as brochures and information sheets. You can create your own or contact ASRT about obtaining printed public education materials. Regarding where to hold these public forums, libraries, schools, community centers, churches, youth centers, and garden clubs may allow free use of their auditoriums.
Community and professional organizations such as Rotary, Kiwanis clubs, chambers of commerce, and schools often invite people to their meetings or special occasions to speak on health care issues. Speaking in such a forum gives you a stage to promote NRTW® and speak on medical imaging and radiation therapy. Another way to promote public awareness is by sending fliers about the event to community centers, health care institutions, schools, or pinning them on public bulletin boards.
Consider getting corporate sponsors for your event. You can achieve this by contacting companies that share your vision and or may benefit commercially from your message.
If asked to give a presentation, consider the following tips:
Questions to ask when you are invited to speak:
What is the meeting agenda?

Where and when is the event?

What is the dress code?

How long is the presentation?

What is the size of the audience?

What is the audience mix?

Will there be a social event beforehand to get to know some of the audience?

Will the media be present?

How is the event advertised and promoted?

Do you need to supply brief biographical data and a photo for introduction and publicity?

Do you need to provide your own audiovisual equipment? If yes, check the setup.

Is your spouse invited?

Will you need to provide handouts?

Has time been allocated for questions following the speech?
Speech contents:
Goals (a maximum of three points)

Define the problem

Background information

The solution to the problem and benefits of the solution.

Citizen involvement

An exciting, enthusiastic and positive ending

Remember to rehearse (approximately six times as overdoing it can cause loss of spontaneity)
Avoid:
Pointing at a person

Putting your hands in front or behind you

Putting your hands in your pockets or on the podium
Successful Celebration Examples
Here are examples of how various facilities and radiologic technologists successfully celebrated National Radiologic Technology Week®.
Make your NRTW® celebration fun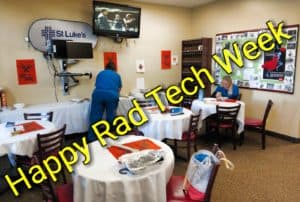 Various facilities across the country help organize contests for staff. One Tech shared several ideas on how they celebrate NRTW® at her place of employment, including a guessing game called "guess the imaged items." They start by imaging items found in or near the radiology department, such as a saline flush syringe or keys. The resulting images are placed in a fake patient file in the imaging program. People then try to identify the items by looking at the images. Whoever correctly guesses the most wins a prize. 
Offer word search, puzzles, and similar games with a radiology theme. Place the game pieces in the office or break room for people to participate.

Create a scavenger hunt by hiding skeletal bones around your office or break room and have people reassemble the skeleton on a designated wall.

Provide food for staff. It could have a radiology theme, such as bone-shaped cookies.

Collect baby pictures of your Radiologists and pin them up in the breakroom. Ask staff to connect the names with the pictures.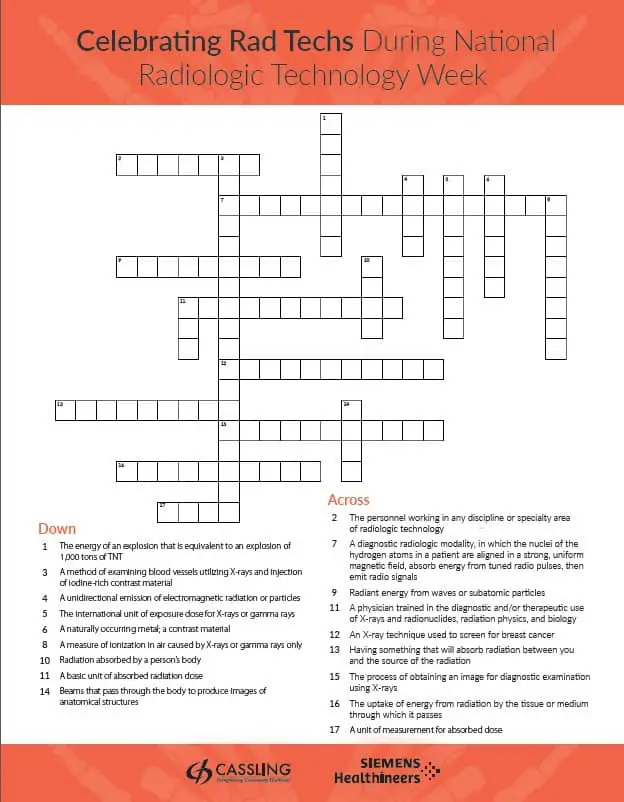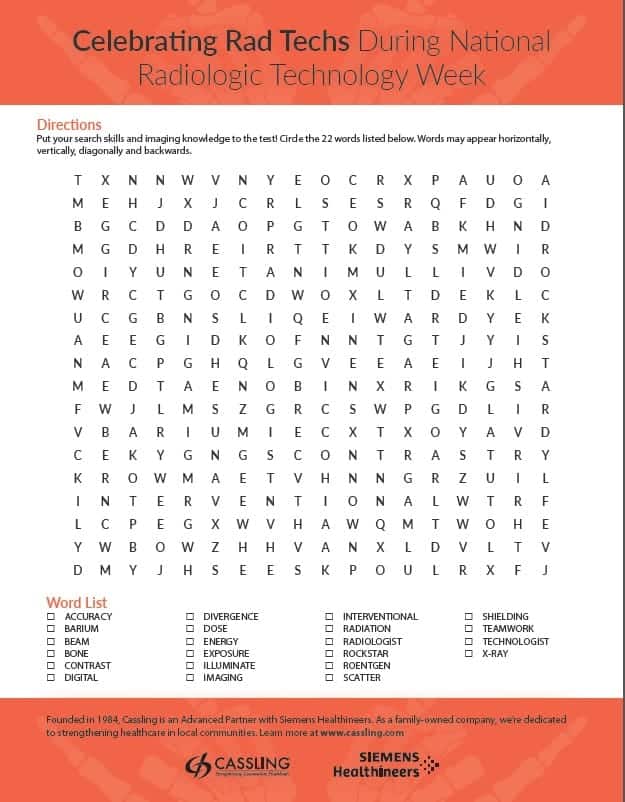 Increase Patient Awareness
The North Carolina Society of Radiologic Technologists used the celebration to inform the public that North Carolina does not license R.T.s. The Lincoln Times-News published an article educating consumers about the importance of minimum education and credentialing standards (Nov. 2, 2005).
 Rehoboth McKinley Christian Health Care Services celebrated NRTW® by creating an educational booth for patients and other staff. The booth displayed X-ray images gotten during various procedures. The facility also received media coverage, which included a photo of the staff (The Independent, Gallup, N.M., Nov. 10, 2006).
Create Awareness About Your Facility's Offerings and Expertise
Haywood Regional Medical Center provided information about its services, including the fact that its staff is certified and registered. The Waynesville Enterprise-Mountaineer published a detailed list of services and expertise offered at the hospital (Nov. 4, 2005).
The Delta County Independent featured an article about Delta County Memorial Hospital that stated the number of radiology exams the facility completes yearly, the types of exams performed, and the types of equipment used. The article also featured the facility's new PACS and how it improves patient care delivery. There was also a list of all R.T.s in the staff (Nov. 15, 2006).
Pana Community Hospital radiologic technologists were featured in several regional newspapers in Illinois. Each R.T.'s credentials were listed, highlighting the level of education and professionalism required in the field (Ramsey News Journal, Ramsey, Ill., Nov. 16, 2006; Golden Prairie News, Assumption, Ill., Nov. 30, 2006; Daily Union, Shelbyville, Ill., Nov. 15, 2006).
Recognize Dedicated Professionals
Oconee Memorial Hospital celebrated NRTW® by informing the public of its services in radiography by providing a photograph of the radiography staff (The Daily Journal, Seneca, S.C., Nov. 8, 2005).
Fairfield Memorial Hospital in McLeansboro, Illinois, received coverage in its local newspaper with a photo of their entire staff. Their manager acknowledged their commitment, skill, and knowledge (Times Leader, Nov. 15, 2006).
Marion Technical College recognized the commitment of the college's administrators, staff, and students of its School of Radiology (Morrow County Sentinel, Mt. Gilead, Ohio, Nov. 8, 2006).
Mayoral Proclamation for Rad Tech Week
Rolla Technical Center's radiography program celebrated the week with an NRTW® proclamation signing by Rolla Mayor, Joe Morgan (Rolla Daily News, Rolla, Mo., Nov. 15, 2004).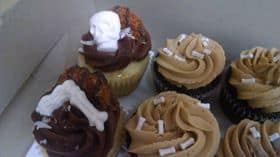 Write an Article
An R.T. and graduate student at the University of Virginia Health System Department of Radiology submitted an article to the Charlottesville Daily Progress. She took this opportunity to gain recognition for the profession by describing the education that a radiologic technologist receives and by reviewing the technologist's role in health care (Nov. 6, 2005).
Regional West Medical Center, located in Scottsbluff, Nebraska, wrote an article about the discovery of the x-ray, its history of usage for diagnosis and treatment of illness, and highlighted the hospital's services and competitive advantages in radiology (Star-Herald, Nov. 18, 2006).
Watch the Trades
Many trade magazines publish stories about NRTW®. They welcome stories about how you celebrate the event, the experiences you've had in ensuring patient care, and your participation in the overall health care team.
RT Image printed an article after soliciting responses from R.T.s about how they've made a difference to their patients' lives. The article featured six stories and photos submitted by R.T.s (Nov. 7, 2005).
NRTW® Merchandise
As mentioned earlier, one way to celebrate National Radiologic Technology Week® is through exchanging gifts as we do for Christmas, birthdays, and anniversaries. You can purchase various gifts from ASRT and Jim Coleman Ltd., including branded T-shirts, ID holders, mugs, pens, lunch containers, bags, sports bottles, travel tumblers, badge reels, among others. And their prices are quite affordable.
Free ASRT Live Course
In celebration of National Radiologic Technology Week® 2019, ASRT will offer a free ASRT Live course titled "I Know It's Rotated, But Why Does It Matter?" The course has been approved for 1 Category A CE credit and will be streamed live on Friday, November 8, at noon Central Time. Registration will open on October 18, 2019.
Radiographic positioning has been and remains one of the biggest challenges of any radiographer. In the digital world, it's the leading image quality complaint of radiologists on a daily basis. This course will discuss the crucial role of proper positioning in maximizing an image's diagnostic yield. By the end of the course, you should be able to:
Explain the concept of profile imaging in connection to image quality.

Discuss various geometric considerations that contribute to optimum image quality.

Identify specific radiographic image features that illustrate proper/improper positioning.

Analyze radiographic images for proper positioning benchmarks.
The course's instructor will be Randy Griswold, M.P.A., R.T.(R). Griswold has been a dedicated educator and professional in medical imaging for over 45 years. His background includes graduate work at the University of Wisconsin-Oshkosh and nearly 20 years as a program director in radiologic sciences. Griswold is a contributing author to two textbooks in radiology.
NRTW® Caption Contest
ASRT had an NRTW® Caption Contest (the "Contest") that was open July 17 through August 30. ASRT is, however, yet to announce the winners. Participants were required to come up with a funny caption for the image below.
The three contestants who submitted the funniest captions will each receive a Combo Kit packed with NRTW® products valued at $179.99 and a cash prize of $300. The total value of the prize package is $479.99. The winning captions may be featured in ASRT Scanner or on the ASRT website and social media platforms.
Why celebrate Rad Tech Week?
Rad Tech Week allows for employee recognition, which is essential to an outstanding workplace. There are two aspects to employee recognition:
The first aspect is in seeing, identifying, or realizing an opportunity to praise someone.

The other aspect is the physical act of doing something to acknowledge and praise someone for their work.
The cost of a recognition program is quite small, even cost-free, but with great benefits if implemented effectively. These benefits include:
Increased individual productivity:

the act of recognizing desired behavior increases its repetition, and therefore productivity. The reinforced behavior supports the organization's mission and key performance indicators.

Increased profitability:

appreciated employees are satisfied with and enthusiastic about their job hence work harder, waste less time, and create innovative solutions, which significantly increase the profitability of the business.

Retention of top talent:

consequently reducing employee turnover and training expenses.

Positive workplace culture:

companies that create a positive work environment "attract the best talent, have the lowest voluntary turnover rates, and are more profitable in the long run," according to a recent Deloitte University Press article.

Teamwork is enhanced:

employee recognition results in satisfied employees who are more motivated to perform at the highest levels and more eager to work together and help each other to achieve company-wide goals.

Increased employee motivation:

showing appreciation boosts staff morale and productivity.
Recognition is necessary for meeting the needs of your employees and helping them grow into valuable contributors. Nonetheless, a lot of companies and employers don't bother making the effort to appreciate their employees. Many facilities, for instance, don't celebrate National Radiologic Technology Week®.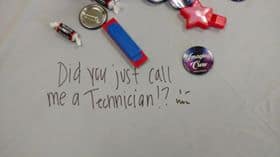 A survey conducted on members of a Rad Tech Facebook group showed that a noticeably higher percentage of R.T.s work for facilities that don't recognize them on NRTW®. The comment section was proof that the unrecognized radiologic technologists weren't pleased with being overlooked. Who would? Here are some of those comments they wrote when asked what their facility does for them on NRTW®. Names have been replaced with "Tech" to protect the innocent 🙂
Tech 1 – Been at 2 different locations since graduation and neither even said thank you!
Tech 2– Work for a cheap group of ortho surgeons who think we mindlessly take "pictures"
Tech 3 – It sounds like it's the same everywhere. RN's get everything and techs get nothing. That's a shame, imaging techs are some of the hardest working people I know.
Tech 4 – Gift – a wrapped disappointment
Tech 5 – Sad to say this but nothing. The other techs and I, we gave each other gifts and decorate our area. We still celebrate the whole week within ourselves.
Tech 6 – Nothing we are NOT appreciated.
Tech 7 – I've never worked anywhere that has celebrated it so whoever gets something be grateful.
Tech 8 – We're lucky if a banner is hung lol
Many of the R.T.s replied only with "nothing," but it spoke volumes. I also couldn't help but notice how quite a number of them mentioned that nurses, unlike rad techs, were consistently recognized. When facilities do this, they are telling R.T.s that they aren't as valuable as other healthcare professionals, which is a morale killer.
That said, there was some positive feedback. There are at least some facilities and employers that recognize their radiologic technologists on National Radiologic Technology Week®. We hope more hospital administrators participate in NRTW® this year and in the future, so here are a few tips on how to recognize your R.Ts. The tips have been prepared from the survey answers submitted by previously-recognized R.T.s.
Buy them gifts in the form of branded T-shirts, pens, cups, badge reels, bags, umbrellas, hoodies, jackets, folding chairs, lunch containers, et cetera.

Reward them with gift cards.

Provide them with free good food for the week.

Organize fun office games and activities such as a scavenger hunt, board games, trivia night, karaoke, happy hour, and musical chairs. You can also offer exciting prizes.

Award them with a cash bonus.

Organize a potluck.

Invite a masseuse to give massages to staff in your office or set up a chair massage one day of the NRTW®.

Set up a coffee bar and let employees be their own barista.

Bring in an ice cream cart or sundae bar one of the days. 
A few things I've done for Rad Tech Week over the years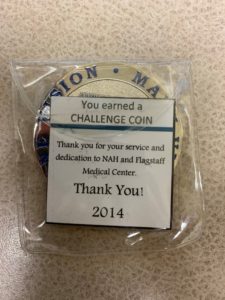 Commemorative Coin –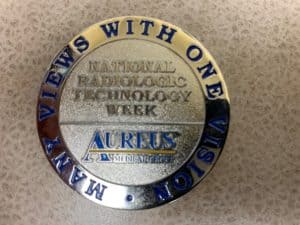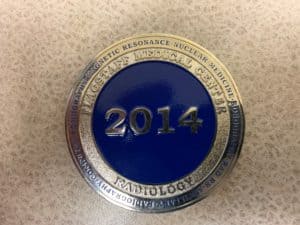 One of my favorite memorabilia was a commemorative collector coin that had all the modalities (including nursing) on one side. The hospital name on the other side and the annual slogan. This was 2014 when the slogan was "Many views with one vision." Great relationships with vendors allowed sponsorship on certain items.
This one was sponsored by Aureus Medical Group. It came in a plastic sleeve. I typed up a little basic note on a piece of paper saying "Thank you for your service and dedication."
My intention was to provide a new one every year but fate had other plans. Due to a house fire, I relocated out of state before the next Rad Tech Week came around. The cost of these were around $600 and they were well received. I made sure to make enough for administrators up the chain too.
Custom T-shirts –
Another Rad Tech Week staple prize is the commemorative T-shirt. Every year I would let staff submit artwork for the next Rad Tech Week shirt. These can be worn at work because they are done with good taste and have radiology wording somewhere on the shirt. I have done long sleeve and short sleeve versions. I have shirts dating back to my earliest years as a rad tech and still wear them with pride. When I get a chance, I'll add a couple of pictures of those as well.
Food –
What party celebration is successful without food?! One of my favorites is in a picture up above. I commissioned a local baker to make Rad Tech Week cupcakes. She sprinkled little candy bones all over the top and they were delicious! We also requisition an annual cake to serve down in the cafeteria. A few techs will sign up to man the table. We make a poster that says Rad Tech Week on it with a little explanation of what we are celebrating. Then slice a piece out to every employee that walks by. It helps get the word out.
There's also the ever-popular Pot Luck! Let Techs signup for bringing in their favorite dishes. Make sure the slow-cookers are engineering approved! Then ask your radiologists to buy food once or twice. Before you know it, you'll have the whole week covered.
Lunch & Learns –
If a vendor is willing to provide a Lunch & Learn during Rad Tech Week, you can set them up in the breakroom. Their purpose will be to provide education to your staff. There should be a sign-in sheet on a table to techs to use when rotating through the breakroom during the day. Have them stop by for some education, sign the sheet so the vendor has proof the educated staff, and enjoy the lunch that the vendor provided.
Schwag –
All the pens, cups, water bottles, lunch bags, posters, buttons, banners and everything else you can think of to place around the room. ASRT has a kit you can buy that comes with plenty of stuff to decorate an average-sized breakroom.  The AHRA also has a kit here. Cassling also offers FREE schwag to help you out here.
Conclusion
Every organization should make employee recognition an essential part of its culture. The cost can be literally zero to the facility if you do some planning ahead. And for healthcare facilities, National Radiologic Technology Week® provides an excellent opportunity to recognize the radiologic technologists working for you. I hope you learned something reading this and remember, NRTW® 2019 celebrations will start from November 3 to November 9.
The following are registered trademarks of the ASRT:
NRTW®
National Radiologic Technology Week®
References
https://www.asrt.org/events-and-conferences/nrtw
https://www.jimcolemanstore.com/nrtw/
https://www.asrt.org/events-and-conferences/nrtw/poster-gallery
https://www.simplypsychology.org/maslow.html
https://www.forbes.com/sites/joshbersin/2012/06/13/new-research-unlocks-the-secret-of-employee-recognition/#67c722e15276
https://cuttingedgepr.com/free-articles/employee-recognition-important/
https://content.wisestep.com/ways-celebrate-employee-appreciation-day/