Reading Time:
4
minutes
After becoming a licensed Xray Tech, many Techs want to move "up the ladder" into Computed Tomography or CT, for short.
I was fortunate enough to train in CT while attending radiography school. The Clinical Instructor that I was paired up with was also the CT Tech at my hospital.
It also had a lot to do with the fact that I chose a weekend shift to do my clinical training so that I could work my regular job during the week.
If you aren't sure how you can work full time and go to radiography, you should read this article.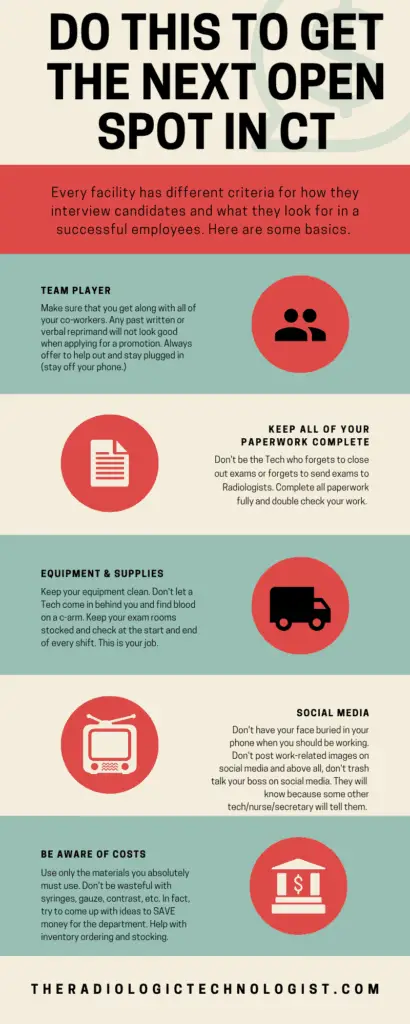 How to get in the door for training
There's more than one way to do this:
learn while still in Xray school, as I did
start observing and learning if you work the night shift in Xray
do a good job and get in line for the next open opportunity
We have already discussed how I got into CT. So, let's talk about the next option.
Watch and learn
First, if you work the night shift, there will be times that you have no patients in the Xray department. Or, you have the help that can cover while you go to CT to learn a thing or two.
The night shift is an optimal time to learn CT skills while working in general Xray. Most administrators are happy to see this happen because they want to foster a pool of multi-modality technologists.
Some administrators are just plain jerks and won't allow it. This is why I encourage people to ask in their job interviews "Do you cross-train your techs and if so, how many times per year?"
When you can "train on the side" like this is may only take you 3-4 months to learn what you need to know. It really depends on the volume in your CT department and how often you get to go learn over there.
Get in line to interview
The other option is to simply wait for attrition. It is the natural flow of any imaging department to see techs retire, quit, get fired, promote, or transfer to another facility.
Every time that happens, someone needs to be cross-trained. If your facility only hires from outside the hospital to fill open CT positions, consider leaving. Seriously.
But, do your job in Xray the way you were trained. When the time comes for an opening it should be posted for all to apply. If your department "appoints" techs to the newly opened CT spot, you should consider talking to your Human Resources representative.
All job openings should be made available to all qualified technologists. So as long as you have a good record and do your job, you should land an interview. Then it is up to the usual factors: years of service, are you a team player, etc, etc.
Those are the basic three ways into the CT department. Here is what some other technologists offered as advice when this same question was posted on a Facebook group:
How can I get trained in CT?
Apply to the Hopkins CT school
Google MRI ct education group in Miami. In four months you can sit ur exam. They offer online classes and you go there for your clinicals
We have on the job training opportunities at Radiology Regional in Florida. Check out our website. Multiple offices between Port Charlotte and Naples
Usually, you just cross-train over into CT with some OJT. Then study a Mosby study guide or the like and take registry. Or at least that's been my path.
Be brave, continue your studies at the same time visit your friend working in the ct tech ask to guide you
Study the CT exam now.
Www.thepetcttraininginstitute.com has a comprehensive and ARRT, NMTCB approved CT and MR Review Course. Check out there syllabus. The course is online self study and offers 50 CEs that meets the structured educational requirements your going to need.
Minimum 16 hrs Structured Education. Completion of clinical requirements per ARRT clinical Content Specifications.
Www.merrylfulmer.com MERRYLFULMER.COM
You can do self-study, and find someone willing to cross-train, or a facility willing to train (this is often rare, but there are facilities that don't mind the free labor and are willing to take on the liability or ask you to pay for liability insurance
Not sure where you are located. Sinclair Community College in Dayton OH has its CT cert program online. Have to be a registered tech R.T. (RT) (ARRT) already. There are clinicals involved so depending on where you live.
Just do on the job rotations through CT and if u like take CT registry
Ask your place of employment for cross-training!
Want to learn more about being an RT? Read some of our 70+ articles: