What Are The Best Shoes For X Ray T
echs
?
When you are a radiologic technologist and standing on your feet all day long, you need the best shoes that provide great all-around protection, comfort, and style.
Shoes can be a large contributing factor to your well-being and prevent possible pain in the ankles, feet, and calves.
I mean, you get enough pain from angry surgeons and productivity-driven administrators, right?!
Life as an x ray tech has become synonymous with long shifts.  Long twelve-hour shifts. But foot anatomy can vary as widely as a cross-table lateral hip technique.
So no "Best Of" list is going to be perfectly accurate for everyone. This list is a combination of several polls given on different Rad Tech Facebook groups over the past year.
It also includes the personal experience of my wife and me, who are both licensed Radiologic Technologists. 
Ours is a profession where you spend the majority of time on your feet on the notoriously cold and hard surfaces of the hospital.
You have to protect yourself from radiation, unidentified pathologies, and constantly move from one place to another.  
For that reason, it is known as a physically demanding profession. 
Wearing suitable shoes in this profession is immensely necessary since they improve the critical aspects of a radiologic technologists' job and fight the fatigue of the healthcare workplace. 
Best Shoes For X-Ray Techs – Buying Guide
Before we reveal the best shoes for x-ray technologists, here are some essential factors to help you choose the best shoes for your job. 
Pondering these factors will simplify your research and present you with some great options. 
Shock Absorption
A good shoe always minimizes the fatigue. 
It absorbs the impact of each step and lessens the stress on the feet. This is particularly important for x-ray technologists as they are constantly standing or moving.
hey need a shoe that can reduce their discomfort and prevent sore aches and pain so that they can focus on their work.
Standing in the OR all day running the c-arm can do some serious fatigue damage to your feet. Try not to be envious of the anesthesiologist just sitting comfortably in his chair.
The shock absorption feature in a shoe can be defined in several ways. For example, some companies will incorporate a rubber foam in them that will act as a padding for your steps; you don't feel any soreness in your feet and body even after an 8-hour shift on concrete floors. 
Safety
Safety is also a vital aspect of a shoe that you are going to be using in the hospital. 
Ensure that the shoe has a slip-resistant rubber bottom, as the tripping and slip hazards are a common part of the healthcare workplace. Especially, in the x-ray hubs and operating rooms, the radiographers encounter slippery surfaces a lot.  
Slipping and falling can be dangerous, particularly while dealing with $100,000 detectors and obese patients.  
Therefore, choose a shoe that has a good grip and can keep you safe during your working day. 
It is also better not to have open-toe shoes. Most hospital policies bad these designs. Open-toe shoes are more prone to germs in a medical facility. Instead, opt for closed-toe shoes.
They prevent germs, protect the feet from fluids and spills, and give protection against any falling medical object.
If you haven't spilled barium or bodily fluids on your shoes yet… you haven't been in the field for very long. 
Sanitation and Maintenance
Hospital floors and especially x-ray departments are exposed to different diseases, germs, and bacteria.
Besides, when you are working in xray, your shoes can easily get stained with nasties, and they can be covered with disease-causing contaminants too. 
Think of all those undiagnosed TB patients sent from the ER, coughing all over the place and you are the lucky one doing the chest xray. 
For your safety and health, buy shoes that are easy to clean. 
For instance, shoes with rubber material are better than fabric. All they require is a wet disinfectant cloth and they don't take long to dry either. 
Avoid shoes with too many textured surfaces, since they are prone to accumulating more filth. It would be tough for you also to clean them regularly.  
Shoes with a smoother surface are always easier to clean. 
Leave the Germs at Work
The best practice I have seen x ray techs perform, when it comes to shoes, is leaving their work shoes AT WORK.
As an administrator, I have always provided lockers for the technologists. Use your locker, or find another secure location in your department, to store your shoes between shifts.
Best Practice:
Go to work wearing a comfortable pair of personal use shoes.
Change into your work shoes for your shift.
When you are done with your shift, change back in to your personal shoes and head on your way.
You know the nasties we see every day in our field. So you know, sooner or later, something icky is going to land on your shoes.
Probably more often than we like to admit. Why risk taking those germs home and spreading it around your home?
If you aren't comfortable leaving your shoes at work, I have seen people who take them off in their garage and walk into their homes in socks.
his can accomplish a similar effect but… you wore your work shoes in your car, right?
Which is where you will also wear your personal shoes so…. cross-contamination.
Top 6 Shoes For X-Ray Techs
If you are an x-ray tech and have been looking around for a great shoe, give these five shoes a look. All of them are comfortable and functional for you. 
Your feet will thank you for wearing them throughout the day. 
Brooks Adrenaline Gts 18 Women's Shoes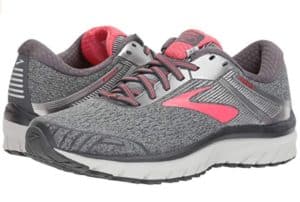 Brooks shoes scored above all others in most polls I see on rad tech Facebook groups. The exact model wasn't always mentioned, but Adrenaline's were the most.
Brooks has been in the shoe business for a long time. My mom used to swear by them when I was a kid and she used them for running marathons.
Technology has come a long way since then, improving on attributes like soft cushioning and support, increased flexibility and a Progressive Diagonal Rollbar to ensure proper body alignment on every step.
The only issue we read was that since these cater to medium-wide feet, people with thinner feet found them feeling "heavy" and "clunky."
Things We Liked

 

Things We Didn't Like

 

It provides comfort and style

On thin feet, they feel heavy or clunky

 

It is great for a number of pathologies

It is just as comfortable as the GTS 17s

 

Sizes accommodate wide feet: DD, EE

 

The Progressive Diagonal Rollbar keeps back alignment

 

 
Poll answers show these to be good for techs with bunions, hammer toes, flat feet, and plantar fasciitis.
Some profess that thanks to these shoes, they don't even need their custom insoles anymore to walk comfortably all day. They can also be helpful for pronators.
Dansko Women's Professional Mule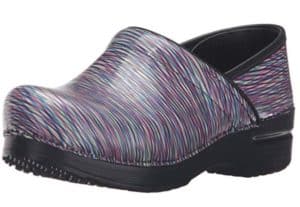 According to several rad tech group polls with hundreds of answers, they are totally worth the price! 
Dansko has many different designs under its belt, but these shoes are their best shoes to date. They are practical and durable, and best for the hardworking x-ray techs. 
The upper of this shoe is made from premium full-grain leather. This material makes this product robust and super easy to clean.
You will feel some resistance in the beginning but after a few days, it will feel more comfortable.
Dansko manufacturers have introduced soft and pliable insoles in it. They reduce weariness and keep your feet in a relaxed position too. 
The only drawback we found was the low shaft. It doesn't provide the extra ankle support some x-ray techs need. But overall it is perfect for those who want a long-term footwear investment.  Plus, their designs are uber cool. 
Things We Liked

 

Things We Didn't Like

 

It provides reliable stability and extra comfort.

 

It is slightly lacking in terms of ankle support.

 

 

It is easy to remove surface dirt with a damp soapy cloth.

 

 

Its breathability keeps your feet dry and cool.

 

 

The polyurethane outsole gives some bounce to your step.

 

 
Alegria Women's Debra Slip-On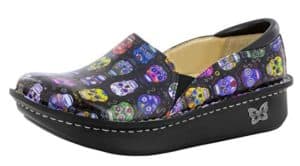 Alegria Women's Debra Slip-On is one of the most comfortable shoes on our list. This is the ONLY work shoe my wife will wear.
She has been an xray tech for almost ten years. She will not buy anything else but, I should note, she does not work in the OR. She only works outpatient clinics.  
They are the perfect combination of structure and comfort. Women with plantar fasciitis pain (inflammation of the fibrous tissue) can count on it as well. Their feet won't hurt even after 12+ hours of constant movement.  
These shoes have excellent arch support. They reduce the amount of impact on the feet & ankle, minimizes fatigue, and ensure your feet get the comfort they need for extremely long days. 
If you are looking for a slip-resistant feature particularly, you are in luck. These shoes comprise of leather with a slip-resistant rubber sole.
You walk comfortably on the slippery surfaces of the hospitals and remain stable on your feet while focusing on your difficult patient. 
Things We Liked

 

Things We Didn't Like

 

It is both stylish and durable.

 

There is a lack of ankle support

 

The rocker bottom absorbs the shock as you walk or run.

 

 

It has a roomy toe box that protects your feet.

 

 

It has slip-resistant qualities.

 

 

It is offered in a range of colors and patterns.

 

 
Skechers Men's Afterburn Memory-Foam Sneakers
We love the memory foam on the inside of this shoe. It contours perfectly against the arches of feet and it is flexible enough that you feel it like a second skin.
These are MY personal favorite, as a male tech, but showed up on the Facebook groups in the top spots also. 
You can call these shoes the perfect marriage of comfort and support. 
Besides, they are coming from a fashion and sports brand like 'Skechers'. This company is an award-winning global leader in the lifestyle and known for its high-quality, diversified, and affordable product line. Their shoes appeal to trend-savvy men, women, and children. They not only provide comfort but also meet consumers' various lifestyle needs. 
Lastly, it is worth mentioning that there is no worrying about durability. The overall construction is outstanding and the materials are sewn together well. 
Things We Liked

 

Things We Didn't Like

 

They are well padded and breathable.

 

The outsoles can wear out on rough surfaces after a few months, depending on use.

The 100% leather/synthetic material is easy to clean and maintain.

 

It is slip-resistant; you can make quick turns and stops without worrying about slipping.

 

 

The Elite memory foam insoles make these shoes flexible.

 

 

The design doesn't restrict the natural movement of the feet.

 

 
New Balance Men's Walking Shoe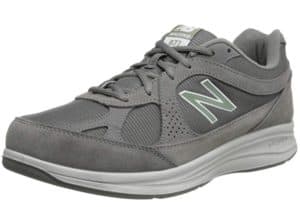 These shoes are perfect for x-ray techs for many reasons. 
They are highly-supportive and provide all-day ease for those days when you are on your feet nonstop.
The support and stability in these shoes lessen the foot, back, and leg pain and reduce the energy you spend while walking and standing for optimal daily work. 
The New Balance Men's Walking Shoe also has 'Walking Strike Path Technology' (an outsole feature that helps stabilize and guides the foot through the walking gait cycle.)
Apart from this, the ABZORB midsole cushioning looks and feels terrific too. It gives supreme comfort and allows you to leverage momentum for an effortless step. 
To dominate the competition, New Balance has used impressive stitching. It can easily withstand the daily wear and tear and keeps the shoes in one piece even after years of daily use. 
Things We Liked

 

Things We Didn't Like

 

Its footbed is designed to prevent chronic pain and injury.

 

The arch support is a little less than other models.

 

Non-slip features guarantee accident-free shifts in the x-ray space.

 

The material of this product is 100% Suede/Mesh.

 

 

The manufacturers have introduced Walking Strike Patch Technology.

 

 

The interior of these shoes maintains a cool, dry feel for extended use.

 

 
Guide Gear Men's Rubber Clogs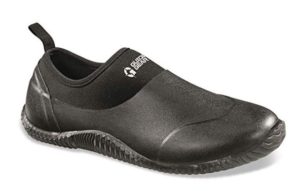 These rubber clogs come with everything you have been looking for. 
They have incredible arch support plus a rubber footbed that doesn't let you feel direct pressure on your foot.
Moreover, there is some room between the back of your heel and the heel of the shoes. This extra space lets you fit wider feet into it easily. 
However, the extra space doesn't let your feet slide in the shoe since it fits snugly at the top.  
You can walk fast or run in them without any trouble. 
The best thing is they are 100% waterproof. Any nasties dripped on your feet during SBFTs or UGIs will roll right off. 
Super easy to slip on and off when in a hurry getting to your workstation.
Things We Liked

 

Things We Didn't Like

 

They have a removable insole for top-notch comfort.

 

The size chart on the product page is not accurate.

 

These shoes come in black and look great at work or for pleasure.

 

The footbed gives great support to the ankle.

 

 While waterproof, feet can get sweaty inside

Rubber outsole gives a good grip.

 

 

They ensure 100% water protection.

 

 
Trendy Bonus! – Adidas Yeezy Boost 350 V2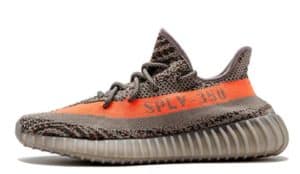 If you are the trend-setter in your department, and you know who you are, don't forget a pair of Yeezy shoes.
These are the legit x ray tech shoe in Q4 for this calendar year 2019.
My favorite Amazon review so far on the Yeezy's:
"I'm so happy with my new pair of yzys i put my dog to sleep right away. I rounded up all my bills and he was just slowing me down. I also sold my sister to a Chinese family allowing me to reach my goal of buying my new yzys people just don't understand the super Saiyan powers that come soaring through one's body as soon as you put it on, I am at the point where I am reaching my God powers I'm looking for someone to battle at the moment until then I will train here in the mountains with piccolo. If you are interested in these shoes do not try to resist it. You are one of the chosen ones. Only a chosen one actually sees the image with the bare eye."
Things We Liked

 

Things We Didn't Like

 

Super Saiyan powers, duh!   

 

Had to sell an ovary and testicle to afford.

 
Check price on Amazon  <== WARNING, not responsible for uncontrollable laughing. (You need to read all the reviews)
Conclusion
All the shoes listed above won't cost you a fortune. Well, except the Yeezy. 
They are economical and provide comfort and protection every x-ray tech needs.  Unless you choose the Yeezy, then it's all about super Saiyan powers. 
Before buying them, get your arch professionally measured at a store and try to buy two pairs for each shift.
Having two pair of shoes make your shoes last much longer and keep the lining cushion and footbed in their default state too. Don't forget to leave the germs at work and switch shoes every shift. 
Shoes For X-Ray Technologists – FAQs
If you have a specific question in mind regarding shoes for radiographers or x-ray techs, read our frequently asked questions below to see if we have answered your questions.  You can also post a comment after this article and I'd be happy to reply. 
How often should x-ray techs replace shoes?
Twice a year (every six months)
Sadly, we have seen people getting new cars more often than buying a new pair of shoes.  
In the radiology department, changing your shoes constantly is required to prevent diseases and foot fatigue. Obviously,  spending $100 on a new pair of shoes is way better than spending thousands of dollars on a life-threatening surgery.  
People with chronic pain or injuries should change their shoes more often to prevent pain and allow a natural range of motions for the feet. 
Do we need shoes without laces?
They would be easier to clean without laces.
This is one of the most common questions.  Mostly, we see radiographers use and prefer clogs.  
It is because they have no laces, plus their soles are orthopedically designed to fit the shape of your feet. You stay comfortable and their closed-toe design protects your feet too. 
There are many other benefits of clog shoes, such as your feet stay warm in the winter and cool in the summer, they give you lower back support, and your weight doesn't compress them like a regular shoe sole. 
If you are interested in the shoes with laces, you can have sneakers designed for radiologist technologist. They often have high-quality EVA sole for traction and breathable mesh fabric for maximum comfort. 
What is lining in the shoe and why it is important?

 
The lining is the inside material of your shoe. 
When a manufacturer defines lining in the description, it means he is talking about the walls around your feet. It is as important as the footbed (the cushioning system for your foot). If the lining in the shoe is stiff, it can create quite an amount of discomfort. 
So, always get shoes with plush lining. 
As an x ray tech, your shoe should reduce the amount of stress as much as possible. 
Just make sure the lining is made from the material that can wick away the moisture too. 
Which shoe types are popular in the x ray tech field?
Three shoe types are popular among radiographers:
Based on literally DOZENS of Facebook groups for rad techs. The question "Which shoe is best" gets posted almost WEEKLY in different rad tech groups. 
First, sneakers; are famous as tennis shoes and athletic shoes in the x ray tech field. They are very comfortable for feet and you are less prone to injuries; they provide good balance and cause less pressure on your legs. 
Second, slip-on shoes are particularly useful in the operating room.  
However, if you are buying slip-on shoes, ensure that they have closed toes and backs and they have non-skid soles too. 
Third, as we have mentioned before, clogs are protective footwear and provide good ankle support. They have a good level of grip that prevents slippage in the workplace.